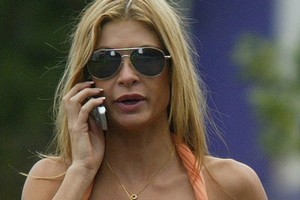 She now goes by the name "Nicola Robinson" and you won't find her cavorting at porno expos or stepping out with high-rolling multi-millionaires.
Buxom blonde Nicky Watson has shed her party-girl image and now lives a quiet life in the Franklin community working part-time at the local beauty parlour.
I found Nicky, er, Nicola working at the Pure Indulgence Day Spa in Pukekohe as the promotions and marketing manager.
"I also get to massage women and make them feel better about themselves," she told me.
Robinson sounds completely at home with her new lifestyle and is eager to stay out of the public eye and out of my column. "Leave me to be, Rach. I just want to stay out of the limelight."
She says she recently split from her boyfriend, a local Pukekohe produce farmer she dated for nine months and doesn't want me to name.
We Spy-ed her car coming out of his property on Friday. She says she needs to find somewhere else to live and may move back to her mother's house in Christchurch for a while.
"I live a very quiet life. I am doing this [working in the salon] for a nice, normal life where I feel part of something," she said.
"I don't want to make a living off my former image. I am NOT Nicky Watson. I am so far from that person, Rachel. I have no attachment to that person any more. I don't want to be associated with Nicky Watson."
Robinson says she's keen for young girls not to look on her former celebrity life as something to aspire to. She wants to be a positive role model for women and wants to contribute something back to the community that has been so accepting of her.
It seems to me that's mission accomplished.
Promo ponies
Are social media sites really just tools in social marketing for some celebrities?
"Good luck to all those leaving for the Aussie Millions," Brooke Howard-Smith tweeted.
"Also, looks like NZ will have poker back on TV this year. Great news!" He doesn't add that he is SkyCity's official poker ambassador.
Should the man who fronts consumer affairs show Target - a programme about transparency and responsibility - be more upfront about his Twitter endorsements?
Howard-Smith works in entertainment television, unlike his network counterpart Samantha Hayes who is a prominent face of the 3 News team and set to be the station's Australian correspondent from March 7.
She tweets a pic of her favourite shoes. The footwear company says they will send her a pair. She tweets two photographs of herself in front of a pricey European vehicle and adds: "Out n [sic] about with the A1," and "I'm off for the weekend, going to take the Audi A1 for a spin up north on the open road."
A quick rego check shows the car belongs to European Motors, on loan for a few days, they tell me.
But Sam's blatant endorsement of the vehicle - eight separate Tweets and two Twitpics - speaks volumes. When it comes to commercial enterprise, whatever happened to journalistic integrity?
Last month, the British government's consumer watchdog, the Office of Fair Trading, began a crackdown on non-declared endorsements on social networking sites such as Twitter.
Paid-for promotions that are not disclosed are now ruled deceptive.
"TV3 people aren't allowed to endorse products," said the company's news chief Mark Jennings.
He said he knew nothing about Hayes' messages promoting the luxury brand, but he didn't appear to be concerned.
"Nothing I've seen makes me think she has endorsed Audi."
-Herald On Sunday / View