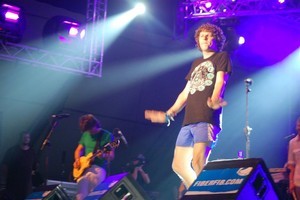 !!! (Chk Chk Chk) will not play the Auckland Laneway Festival today due to a flight from Singapore that was delayed by more than seven hours.
Festival organisers spent the night looking into alternative options but had no success in being able to get the bands to New Zealand in time.
The band were due to play second-to-last at 8.35pm, with the other bands now moving up to take their place.
The new lineup is:
1.00pm - An Emerald City
1.45pm - Children's Hour
2.30pm - Lawrence Arabia
3.15pm - Holy F**k
4.00pm - Ariel Pink's Haunted Graffiti
4.45pm - Blonde Redhead
5.30pm - Warpaint
6.15pm - Ladyhawke
7.00pm - Deerhunter
7.45pm - Yeasayer
8.35pm - Beach House
9.25pm - Foals
*herald.co.nz will be providing full coverage of the Laneway Festival including live blog, photo galleries and video interviews. Check our Laneway Festival section.