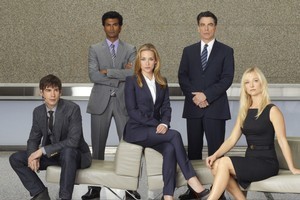 After a career in spy films - he kicked off the Bourne trilogy, got Brangelina together in Mr and Mrs Smith and has CIA true story Fair Game arriving on movie screens here soon - Doug Liman has made a spy TV show.
He's the executive producer of Covert Affairs, which stars Piper Perabo (best remembered as the new gal in Coyote Ugly) and Christopher Gorham (Henry from Ugly Betty).
She's a CIA trainee suddenly promoted to field operative in order to help capture her ex-boyfriend and he's her handler, a CIA intelligence officer who was blinded while on a mission in Iraq.
Four years ago Liman directed a pilot for a Mr and Mrs Smith spin-off starring our own Martin Henderson in the Pitt role, but network ABC went no further with the proposed series. However, Covert Affairs has had favourable reviews and been renewed for a second season showing Perabo's Annie Walker coping with her double life. That duplicity is what attracts Liman.
"My true love of the show and of this world is that special spot where the spy world and the world the rest of us inhabit intersect. I'm fascinated by that, in real life. When I started The Bourne Identity, the first question I said to myself was, "How come you never see James Bond pay a phone bill or the rent?" I just always had that in the back of my head. So, for me, in the hyper-reality of the world of Covert Affairs the only boundary is that she has to be able to return to Earth when she goes home. As long as she can return home to the world that we know, the missions can be as outrageous as our imaginations can carry us. We'll know we're going too far, if suddenly there is not a real world to return to. That's where I draw the line."
LOWDOWN
What: Covert Affairs
Where and when: Wednesday, February 9, Four, 9.30pm
Who it's for: Fans of The Bourne Identity, Mr and Mrs Smith, Alias, possibly even Chuck
-TimeOut