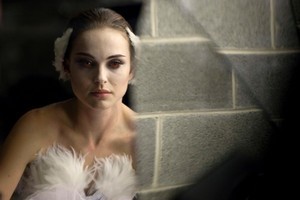 It's easy to see, while watching her character's descent into madness, why Portman scooped the Best Actress Golden Globe award and an Oscar nomination for her role in this psychological thriller.
It's directed by Darren Aronofsky, here in seemingly more elegant territory than he was on his last award-garnering film, Mickey Rourke's comeback vehicle The Wrestler.
Her performance as Nina, a prima ballerina in a New York company, is captivating. Portman does unhinged well and, appearing in almost every scene, she has the additional challenge of holding this intense and unpredictable thriller together.
Not only does she convincingly pirouette across the stage, but her conviction to her character never waivers, even as Black Swan careers from drama to psychological thriller and, unexpectedly, to gothic horror.
It's not just Portman's dedicated performance that makes Black Swan intriguing.
Aronofsky's unique visual style has a relentless pace, hand-held camera work and jarring editing; which, when combined with the fearless way he blurs the line between reality and fantasy, is by turns confusing, terrifying and, at times, amusing.
The casting is diverse and thoughtful as Aronofsky surrounds Nina with people who support her but also contribute to her perfectionism and paranoia.
Nina finds her relationships with each of them difficult, whether it's with her overly protective mother Erica (Barbara Hershey), her demanding artistic director Thomas Leroy (Vincent Cassel), her has-been predecessor Beth Macintyre (Winona Ryder) or her new rival at the company Lily, played by That 70's Show actress Mila Kunis.
An exhaustive rollercoaster ride, Black Swan really gets cranking when Nina is named as the lead of the new season production of Swan Lake. It's a part requiring her to play two roles; the good, innocent Swan Queen, which she's got covered, and the evil and sensual Black Swan, a role more suited to Lily.
To prove to Leroy she's not too uptight for the Black Swan role Nina steps out of her comfort zone and ultimately out of her mind to achieve her dream.
You can't help but get caught up in Black Swan, but it's not a film you like or enjoy instantly.
Engrossing, over-the-top and at times highly uncomfortable, it takes time to digest, and while Aronofsky pushes the boundaries of absurd melodrama too far at times, for the most part he manages to pull off this crazy ride beautifully.
LOWDOWN
Stars: 4/5
Cast: Mila Kunis, Natalie Portman
Director: Darren Aronofsky
Running time: 109 mins
Rating: R 16 (Violence, sex scenes & content that may disturb.)
Verdict: Aronofsky leaves you speechless with this lavish, well acted and out-of-control portrait of an artist.
-TimeOut