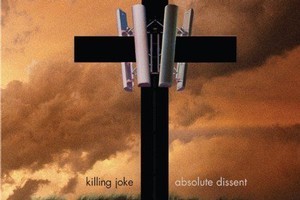 Rating: 4/5
Verdict: Original band's triumphant and heavy return
There is no mistaking that dark, jagged and scything guitaring, the relentless churn of bass and drums, and the maniacal, yet statesman-like voice of singer Jaz Coleman. It can only be Killing Joke. And Absolute Dissent marks the first album in 28 years by original members Coleman, Geordie Walker, Youth, and Paul Ferguson.
Sadly, the impetus to get back together was the death of former bass player Paul Raven when they met at his funeral in 2007 - and there's a touching tribute in the form of The Raven King, a ballad that erupts in serenades.
While Absolute Dissent is a fearsome barrage of primal rock, it's different from the two previous KJ albums released in the 2000s, which had a wild, raw, and relentless vigour akin to the band's early-80s years.
And rather than being a raving mad dictator, Coleman has stately moments like he had on mid-80s album Night Time (the one with Love Like Blood on it).
So it's more grand-sounding, at times a little lighter with the synth and oonst-driven departure of European Super State, but most of all a little more straight up rock 'n' roll. In Excelsis and The Great Cull chug along, riding an almost metal groove, Honour the Fire is swathed in a veil of shoe-gaze, and they are back to their harrowing best on This World Hell and the sludgy massacre of Depthcharge. Although, one of the most potent tracks is closer Ghosts of Ladbroke Grove which is rooted in echoey ambient dub.
-TimeOut