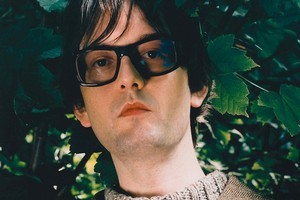 Music fans are being invited to stand eyeball to eyeball with the world's most enigmatic singers delivering stripped-down versions of their favourite songs from just a feet away.
A new art installation opening on Friday at the Sydney Town Hall called LIVE, and is part of the Sydney Festival, portrays 20 artists including Jarvis Cocker, Rufus Wainwright, Juliette Lewis, Sarah Blasko and Peaches performing side by side on giant screens.
Starkly presented in black and white and heard through headphones, the original work by filmmaker Jasmin Tarasin offers an intimate study into the way musicians present themselves in the moment.
"The exhibition is a homage to performance and to the art of performance," Tarasin told AAP at LIVE's launch in the Sydney Town Hall.
"I wanted to explore a number of artists really intimately and how they express themselves in a musical fashion."
Good looks, media buzz or chart success counted for nothing and instead individuals were selected on their dynamism and ability to connect through art.
Incorporating four screens with singers on regular rotation, the project was inspired by a visit to Spain when Tarasin immersed herself in the artistry of flamenco dancing.
"They talk about a term called 'duende', something a performer either has or hasn't, meaning spirit or emotion," she said.
As part of her search to find 'duende' Tarasin flew around the world to film international performers like Juliet Lewis, Martha Wainwright and Roisin Murphy, as well as recruiting a number of Australian stars.
It took four years in total with some artists refusing her advances because they wanted to be the centre of the project, failing to understand the concept of sharing a stage.
Another demand on musicians was performing unaccompanied or with minimal backing, resulting in Warren Ellis delivering a haunting violin solo and The Presets' Julian Hamilton singing a cappella.
According to featured Australian musicians Dan Kelly and Gareth Liddiard of The Drones, the installation offers fans a unique take on performance at its purest.
"It's showing everyone in their rawest form," Liddiard said at the launch.
"If it was just one artist involved it wouldn't make any sense, but in the context of everyone else it's great."
Kelly hailed the variety of artists as demonstrating different approaches to performance and the degrees of personality innate in live music.
"It's interesting seeing everyone's plan of attack," he said.
"Some people look more comfortable than others, some slip into their song while others are going right out there."
* LIVE Installation is on at Lower Town Hall as part of the Sydney Festival from January 14-23
-AAP