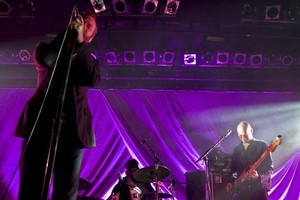 And you thought Matt Berninger, the slightly awkward yet oddly charismatic mate of President Obama and singer in the National, was a shy, introverted type.
Well, he was most of the time as the dapper, New York-based band swooned and swayed their way through a two-hour set on the first night of their three sold-out shows.
But there were moments of wildness. Like when he jumped off the stage, scrambled his way through the crowd towards the bar as the microphone chord unreeled relentlessly, and he ended up back on stage with a bottle of Sacred Hill. Cheers to that.
He's a likeable chap. And it's clear from his occasional shrieking and frenzied vocal outbursts, like on the shouty and noisy jangle of Abel (which was the first real sign of some vitality and energy), that he likes to go wild.
The thing is, maybe the National need to break free a little more. While the songs were beautiful, punctuated with regal bursts of brass (like on fragile opener Runaway), they were only as big as their records.
And when you go to a live show you want something different and more bold and daring.
It didn't help that the volume could have been turned up a few notches and a mate likened it to listening to one of the band's albums from over the neighbour's fence.
Then again, the National are an understated band - and that's a big part of their appeal. But they are more riveting when they slug it out more (like on the thrumming Anyone's Ghost), and they've also got a nice country bent to go with their Nick Cave-obsessed music, which adds an almost down-home feel to Lemon World.
The crowd - a mix of young things, old things, cool things and beautiful things - lapped up every maudlin and moody word of it, chiming in with rousing sing-alongs to songs like the strobing and beat-heavy Blood Buzz Ohio (an early highlight) and the beautifully lilting Fake Empire (or "the Obama song", as the mate put it).
And they fired up towards the end with old song Mr November before an all-in acoustic sing-along to Vanderlyle Crybaby Geeks to end.
-TimeOut