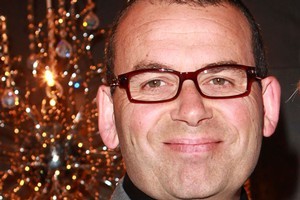 The Broadcasting Standards Authority has rejected four complaints about comments made by disgraced broadcaster Paul Henry.
Its decision, released today, focused on statements made by Mr Henry on the TV One show Breakfast between March and September.
None of the complaints related to Mr Henry questioning whether Governor-General Anand Satyanand was really a New Zealander or mocking the name of Delhi's Chief Minister Sheila Dikshit, which led to his eventual resignation from TVNZ in October.
A decision on those comments will be made in 2011, the BSA said.
On the March 23 episode of Breakfast, Mr Henry read out a joke about New Zealand red wine being so bad in the 1970s that one was called saviour wine because "when you take the first sip you go, 'Jesus Christ!'"
A complaint that his use of the words "Jesus Christ" was offensive was not upheld.
The BSA ruled the phrase was used by many New Zealanders in everyday speech and was not used in an offensive or derogatory way.
It also turned down two complaints made after Mr Henry questioned the quality of immigrant doctors in New Zealand.
His comments were made after an interview on New Zealand's high reliance on overseas medical staff on an August 9 show.
Mr Henry said "these immigrants can't be as good as our doctors" and that they would stay overseas if they were good because they can make more money there.
That did not breach standards of good taste or decency and denigration, the BSA decision said.
"In our view, the host's comments, which were clearly his personal opinions, were brief and did not carry any invective."
Statements made by Mr Henry on the treatment of Afghan prisoners sparked a complaint from Amnesty International.
During a discussion on the SAS handing over prisoners to Afghan security forces, Mr Henry asked, "does anyone care whether they put drills through the heads of these people that they capture after we give them back to the Afghans or not?"
Amnesty International said the comments were "deeply disturbing, offensive and irresponsible" as well as inflammatory.
The BSA said the choice of words may have offended some, but were intended to provoke discussion rather than promote torture.
"In our view, he was being deliberately provocative and hyperbolic to stimulate a response on an important and topical political issue."
Another complaint over Mr Henry's September 7 contention that Civil Defence kits should contain a gun was turned down on the grounds the comments were intended to be humorous.
It noted that Mr Henry's co-presenter told him it was not the time to make jokes and repeatedly assured the audience Mr Henry was "just joking".
Christchurch's magnitude 7.1 earthquake, which caused widespread damage and sparked a massive civil defence response, had occurred three days earlier.