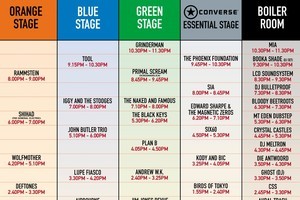 The last major piece of the Big Day Out jigsaw puzzle has been put in place, with the release of the much-anticipated band timetable.
Fitting 81 acts across 8 performance areas over 13 hours is never going to be easy, and there will inevitably be clashes for the 45,000 music fans that will descend on Mount Smart Stadium on January 21st.
While Tool will close the main stages, the final sounds of the day will emit from MIA in the boiler room, and Nick Cave's Grinderman on the Green Stage.
"We are extremely excited to be playing between Primal Scream and Grinderman," says Samuel Scott of The Phoenix Foundation (Essential stage, 9.45pm - 10.30pm).
"It kind of seems ridiculous! I hope we play awesome. I'll probably miss LCD, but I have seen them before. And I shouldn't have any trouble seeing Iggy & The Stooges, which is a bonus."
The day kicks off with the winners of the inaugural NZ Music Awards Critics' Choice winners Street Chant, taking to the Essential Stage at 10.30am.
Download your own Big Day Out timetable by pressing the link on the right.
*What do you think of the timetable? Share your thoughts, clashes, and intended-order-of-bands below...