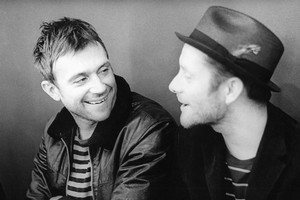 The world's best cartoon band, Gorillaz, bring their unique stage show to Auckland next week. Scott Kara talks to co-founder Jamie Hewlett.
Jamie Hewlett - the lesser known of the two brains behind virtual band Gorillaz - has nothing to do with the music. He leaves it entirely up to Damon Albarn, the Blur frontman and prolific music eccentric.
"I'm not musical and he doesn't draw so it would be foolish," says Hewlett bluntly. "We discuss things but he's very good at it [the music]. That's the beauty of our relationship," he continues with a wicked chuckle on the phone from Adelaide where Gorillaz are on tour.
The cartoonist and comics freak, whose first claim to fame was co-creating the Tank Girl comic in the late 80s, is the visuals man. And when Gorillaz play in New Zealand for the first time next Tuesday at Vector Arena, the whole band of cartoon characters will be there - albeit beamed on to a giant screen. There's staunch and dreamy singer 2D (the first character Hewlett came up with in 1998 who's based on a bloke called Stuart who works in the Gorillaz office), self-proclaimed band leader and bass player Murdoc Niccals, 10-year-old Japanese guitarist and martial arts exponent Noodle, and unhinged yet intelligent drummer Russel Hobbs.
And this motley, and often cheeky lot, will also have some of the many guest musicians they've played with over the years in tow.
These include guitarist Mick Jones and bass player Paul Simonon of the Clash ("Paul and Mick are neighbours with me and Damon in West London, so we drink at the same local pub.") who feature on the latest Gorillaz album Plastic Beach, as does soul legend Bobby Womack (who sings on spacey soul single Stylo) and American happy hip-hoppers De La Soul (who also guested on Feelgood Inc. off 2005's Demon Days album).
Sadly, Snoop Dogg won't be there but a 13m high version of the rapper welcomes punters "to the world of the Plastic Beach" at the beginning of the show; also absent are the likes of Lou Reed ("He did a few shows but he doesn't really like leaving New York."), Mark E. Smith from the Fall, who is currently on tour (having played in Auckland earlier this week), and human train wreck Shaun Ryder of the Happy Mondays who is in British reality show I'm a Celebrity ... Get Me Out of Here!.
Hewlett and Albarn have not done a world tour before due to the expense of bringing Murdoc and his mates to life, and also the logistical nightmare of getting all the singers and players in one place.
Following Demon Days they did a short run of shows in the mid-2000s, including five nights at the Apollo Theatre in Harlem, New York. A world tour was planned but later cancelled due to the expense and technical issues.
"Gorillaz was originally an idea that would work well on the internet, and as music, videos, and film, and animation," says Hewlett. "And it does all that well. But touring has always been a problem because it's very hard to manifest these characters on the stage in a live context. We have tried many different routes, all of which have failed, because it's way too expensive.
"But then we said, 'Lets just make this easy on ourselves. Let's have a giant screen that will project all the characters and the films that we made, the band play through it, and the guests appear.
"And this time round, I don't know why, for some reason we've managed to secure everybody for three months and everybody was up for doing it," he says.
Plastic Beach is the best, most ambitious of the Gorillaz albums, and while there are not as many catchy hits, like Feelgood Inc. and Clint Eastwood, it's a jump-on-and-take-the-trip kind of album.
"We're not on a conveyor belt with this," says Hewlett. "We always need a big bit of time between albums because it's quite exhausting and we often go off and do new projects," he says.
In between Demon Days and Plastic Beach the pair worked on the Monkey: Journey to the West stage show, and Albarn also released an album with band The Good, the Bad and the Queen (with Simonon), and Blur reunited.
When Gorillaz reconvened Hewlett says they were excited. "And what we tried to do with Plastic Beach, this is a story - and there's been all this talk of a Gorillaz movie, and it's never going to happen because it's not exactly an original idea - and so it's kind of like a film, but it's played out over the course of the album, on the website, through the videos, and it's for real fans who invest their time in listening to all the different stories and how they unfold."
LOWDOWN
Who: Gorillaz
What: The virtual band created by Damon Albarn and Jamie Hewlett with two guys from the Clash and a cast of guests including Bobby Womack and De La Soul
Where & when: Vector Arena, Tuesday
Latest album: Plastic Beach, out now
See also: Demon Days (2005); Gorillaz (2001)
-TimeOut