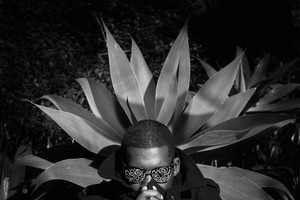 Maverick muso Flying Lotus, on the bill for Rhythm & Vines, talks to Jacqueline Smith.
Flying Lotus, Steven Ellison by birth, took a special piece of New Zealand home with him last time he was here.
The Californian beat boffin's latest genre-defying album Cosmogramma features native New Zealand birdsong. It's buried away somewhere in there between the ping pong balls, hospital equipment and stationery noises.
Ellison is always collecting little ticks, bleeps, flutters and anything else he can layer into the rhythmic salads on his albums.
He may even add some new sounds to his library when he returns to play at Rhythm & Vines in a few weeks time with his friends Hudson Mohawke and Gaslamp Killer.
"We have got a lot of time in that trip so I think of a lot of it will be spent getting wasted and trying to come up with stuff, hopefully."
Ellison emerged as the maverick laptop-musician Flying Lotus with the release of his debut album 1983 in 2006, and followed it up with Los Angeles, a heavier collection of cosmic-but-hip-hop-derived tracks in 2008. This year's Cosmogramma - the most accessible yet hallucinogenic of the three - is said to be inspired by his mother's passing. But Ellison finds it difficult to talk about the meaning behind a craft that comes instinctively to him.
"In a way it's draining. I feel like a lot of time is spent over-thinking, dealing with reviews and press stuff. It makes me think about things I usually just do. It really puts things in perspective - like your ego and all that," he says.
That's one reason he's hiding out in Hawaii when TimeOut rings through. He even left his laptop at home.
People often ask the Lotus about the lucid dreams, drugs and meditation that tend to accompany, or inspire his music-making. And he often talks about the process as being both his therapy and his release. The name Flying Lotus was inspired by the liberating, spacey sounds he ends up with when he starts playing around on his laptop. "I have always been inspired by the idea of flight and I feel like music I hold on to is music that makes you feel like you are flying, that picks you off your feet," he says.
A recent video clip for his typically-ambiguously named track Mmm Hmm, created by Kiwi film company Special Problems tried its best to illustrate what Ellison sees when he writes music. It's a bizarre trip through feathers and stiff cloud-like formations, computer games and geometric formations.
Ellison is also deeply interested in images and has studied film - he thinks film and music needs to be connected. He hopes to extend his music label Brainfeeder's representation to more experimental visual artists, eventually building a home for film-makers. His own music-making his always been accompanied by intense imagery.
"I always imagine where it is taking me, where I'm going with it. It's kind of like films. You can basically be dictating how you want someone to feel you are manipulating someone's emotions a little bit."
Ellison says he likes to keep the meaning of his songs ambiguous by giving them open-ended titles, but almost everything he produces references something real.
"I think it's fun not knowing. I think that's what's so cool about instrumental music, there's no one telling you what to make of it."
He describes Flying Lotus' evolution over the past four years as a maturing.
"I feel I have grown a lot, learned about life and become a lot more real. It's more experience maybe, more good days, more bad days, there's more at stake now I guess but it's all good, it's all inspiring, there's still so much to say. I feel, creatively, like a new artist almost."
Recently after flooding his album with sounds, he's suddenly found his inspiration coming from minimal music, and wants to get to the "core of a track". And he started making beats on an iPad recently, just for fun, and was surprised to find it sounded just like his other stuff.
"It's because it was me doing it. It's all about what you put into it. It's your personality that goes into the machine and makes it."
Whether or not this means the next Flying Lotus release will be the stripped bare version of its predecessors he doesn't know.
"It's just a head space you know, it's not a career path, it's just what I want to do tomorrow. That notion will change in a few weeks."
The ultimate festival
It seems people don't mind driving seven-odd hours to get to a Gisborne vineyard for the biggest New Year festival of the year.
Rhythm and Vines has been running since 2003, when the organisers decided a New Year's Eve event should be held in the first place in New Zealand to see the sun. That inaugural festival was headlined by the Black Seeds.
Since then it has grown from a one to a three-day festival and attracted big-name international acts such as Public Enemy and Moby.
This year's line-up is expected to draw more people than ever.
Hip-hop-pop-rock band NERD will headline the opening night on December 28 joined by Canadian DJ duo Chromeo, Carl Cox from Britain, Melbourne's Miami Horror and English indie five-piece Mystery Jets.
December 30 is headlined by Flying Lotus (above) with Gaslamp Killer, Welsh drum and bass DJ High Contrast, DJ sets by Justice and Chase and Status, as well as British rapper Tinie Tempah and London DJ Erol Alkan. New Year's Eve features international acts Netsky and Boyz Noise with local acts of the year Shihad and The Naked and Famous and 1970s Kiwi rockers Dragon.
Other local acts playing at the festival are Bulletproof, P.Money, Hollie Smith, Optimus Grime, Mt Eden Dubstep, Magik Johnson, The Electric Wire Hustle and BARB.
Lowdown
Who: Flying Lotus, aka Steven Ellison
When and where: December 30 at Rhythm & Vines
-TimeOut