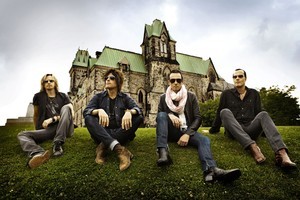 Hard-playing, and harder living rockers the Stone Temple Pilots play Vector Arena on March 26.
Fronted by Scott Weiland, one of rock 'n' roll's top rabble-rousers And best singers, this tour features the original line-up also made up of brothers Robert and Dean DeLeo, who play bass and guitar, respectively. With Weiland's well-documented drug problems and stints in rehab finally getting the better of him, the band decided to go on an extended hiatus in the early 2000s.
However, in 2008, around the same time Weiland's supergroup Velvet Revolver was about to implode, STP started playing together again and they released their sixth album, Stone Temple Pilots, in May this year.
Tickets go on sale December 17 at Ticketmaster.
-TimeOut