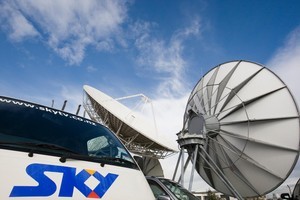 Sky TV is playing down an upbeat analyst's note that says new internet TV platform iSky has a clear advantage because Sky has premium content "locked up".
First New Zealand Capital analyst Sarndra Urlich gives a positive appraisal to the new iSky launching on November 24.
She says Sky is in a position to sit back and observe the rollout of internet TV - the new consumer technology that allows broadband downloads of movies and TV shows to computers and TV sets.
Internet TV is already available through TiVo - part-owned by TVNZ - but TiVo has struggled and has a tiny share of the market compared with Sky.
Urlich said that a stand-alone internet TV model would not workand new global platforms like Netflix, Google TV or Apple TV would probably not be interested in this country because it is so small. And content was the key.
"The reality is, and has always been, that unless competitors have premium content their competitive threat is absolutely diluted, regardless of the distribution platform," Urlich said in a note published last week.
"Sky TV has already locked up premium local and international content, both as it pertains to standard and internet rights.
"It is not a stretch to imagine that Sky has serious leverage with international studios, given its pre-eminent position in New Zealand.
"Given the benign competitive environment in New Zealand, Sky can afford to sit back and observe the [internet TV] model as it plays out," she said.
The note delivers a positive picture for investing in Sky.
But Sky has come under scrutiny for its hold on content, with calls for regulation.
Sky chief executive John Fellet dismissed the view that Sky had content locked up.
He said Urlich had been "overly complimentary" in assessing Sky's hold on content.
Free-to-air broadcasters such as TVNZ and TV3 had substantial premium content deals and these included internet replay rights for services like TVNZ on demand, he said.
For instance, TVNZ held internet right to shows such as TV2's Desperate Housewives.
Nearly 50 per cent of New Zealanders are subscribers to Sky.
Initially iSky will be available to Sky subscribers on home computers, then it will be extended to TVs and to non-Sky subscribers.
Fellet said one of the most positive factors was the strength of the Sky brand in New Zealand.
The First New Zealand Capital note said: "Assuming [internet TV] became a reality in New Zealand, we believe the opportunities for Sky outweigh the threats."