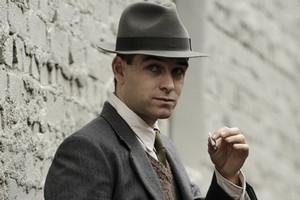 Serial trickster Syd Ross knew he would have the New Zealand Government eating out of the palm of his hand when he fabricated a story about a Nazi plot to take over the country.
In 1942, after being released from prison, Ross called Prime Minister Peter Fraser to tell him of the Nazi plans of sabotage and assassination. Suitably shaken, Fraser contacted the head of security, Major Kenneth Folkes, a British import who had set up the Security Intelligence Bureau, the precursor to today's Security Intelligence Service.
Ross was quickly presented with a car, money, accommodation and new identity and was tasked with gathering evidence on this Nazi scheme. His lies made it into Major Folkes' secret dossier, and the immensely embarrassing hoax become one of the Government's most tightly bound secrets.
The book The Plot to Subvert Wartime New Zealand, by Hugh Price, long an anti-SIS campaigner in his years as a Wellington publisher and bookseller, unravelled the facts, and now the story is making its way to television.
South Pacific Pictures' Spies and Lies, starring Antony Starr, is a dramatised, but true account of what happened in 1942. Producer-director Simon Bennett who was drawn to the tale because it seemed outrageous that such a far-fetched story could actually have taken place right under New Zealanders' noses.
Although it is set in the past, he says Major Folkes' involvement in the scam highlights a New Zealand tendency to hire international talent for jobs they are unqualified for. Folkes knew nothing about security, but when he was brought over to set up the Security Intelligence Bureau during World War II, he was given the rank of major, and one of the most highly paid jobs in the country. British actor John Sessions, known for his comedic-bent as well as his dramatic roles, travelled to New Zealand and brushed up his Birmingham accent for the role. Bennett says he sought an actor from abroad as he wanted to convey the "otherness" of the character - and New Zealand actors were too recognisable.
Meanwhile Antony Starr was the ideal candidate for the lead role of Syd Ross. Bennett says he knew he would bring a wry sense of humour to the role. He had just come off the gruelling project After the Waterfall (currently in cinemas), and Bennett says the lightness of the feature appealed to him. "Syd Ross is also wildly different from Van and Jethro in Outrageous Fortune, which I guess is why Antony wanted to do it."
Bennett has also been working intensively on Outrageous Fortune for the past few years and says he leapt at the chance to do something period, and based on truth. Working with a relatively small budget meant the crew had to be rather ingenious making the locations look like Wellington and Rotorua in the 1940s. "It is interesting in that you think, my goodness this actually happened, but it's a ripping yarn set in New Zealand in the 1940s of schemes and scams and people being made fools of," he says.
LOWDOWN
When: Sunday, 8.30pm
Where: TV One
What: Truth is stranger than fiction
-TimeOut