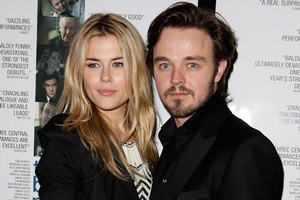 A two-year apprehended domestic violence order has been formally imposed on Underbelly star Matthew Newton after assaults on his former girlfriend, actress Rachael Taylor.
Taylor launched the AVO proceedings at Sydney's Downing Centre Local Court in August after a trip to Rome with Newton, who was then her fiance.
During the trip, Taylor reportedly suffered "two unprovoked assaults" at the hands of Newton, one of them in the lobby of a five-star hotel. The assaults allegedly took place on August 13 and 14, a few days after Newton proposed to Taylor.
No criminal charges have been laid over the allegations.
In the court yesterday, magistrate Jane Culver confirmed an interim AVO put in place last month. Newton did not oppose the order. Taylor was also in the court.
Outside the court, she thanked her family and friends for their support.
"Today was a first and necessary step," she said. "I'm very happy to be spending more time in Sydney safely."
The AVO prohibits Newton from approaching or contacting Taylor except through lawyers, and orders him not to destroy or deliberately damage her property.
Newton is also ordered not to assault, molest, harass or threaten her or her family, or enter buildings where she may live or work.
Newtown, son of showbiz couple Bert and Patti Newton, was in a Sydney psychiatric clinic on suicide watch after the incident in Rome. He also withdrew as host of the X-Factor. Earlier this year, he had a month-long stay in a rehabilitation clinic in Melbourne.
In 2007, he pleaded guilty to assaulting his then girlfriend, Brooke Satchwell. The conviction was later quashed on appeal.
- AAP