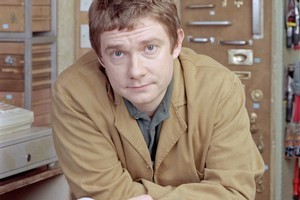 The filming location may be up in the air, but Sir Peter Jackson has confirmed who will play some of The Hobbit's lead roles.
As has been widely touted, English actor Martin Freeman has been confirmed to star as title character Bilbo Baggins.
Freeman is known for his roles in The Hitchhiker's Guide to the Galaxy and The Office.
"Despite the various rumours and speculation surrounding this role, there has only ever been one Bilbo Baggins for us," said Sir Peter in a press release from New Line Cinema.
"There are a few times in your career when you come across an actor who you know was born to play a role, but that was the case as soon as I met Martin. He is intelligent, funny, surprising and brave - exactly like Bilbo and I feel incredibly proud to be able to announce that he is our Hobbit."
Richard Armitage is set to play Thorin Oakenshield, the leader of the company of dwarves which sets off to reclaim the Lonely Mountain from a thieving dragon.
Armitage is an English actor who is soon to appear in Captain America: The First Avenger.
"Richard is one of the most exciting and dynamic actors working on screen today and we know he is going to make an amazing Thorin Oakensheild," said Sir Peter. "We cannot wait to start this adventure with him and feel very lucky that one of the most beloved characters in Middle-earth is in such good hands."
Rounding out the Company of Dwarves are Aidan Turner (TV's Being Human) and Rob Kazinsky (TVs EastEnders) who play Kili and Fili, respectively.
Kiwi actors who have nabbed roles include Mark Hadlow, Peter Hambleton, John Callen and Stephen Hunter, who play dwarves Dori, Gloin, Oin, and Bombur.
Other actors thought to be returning to the roles the played in the Lord of the Rings trilogy are; Ian McKellen (Gandalf), Cate Blanchett (Galadriel) and Hugo Weaving (Elrond).
British actor Sylvester McCoy, a former Dr Who, has also been tipped to play the wizard Radagast the Brown. McCoy is currently in Auckland attending the Armageddon Expo pop culture exhibition.

- NZ Herald staff