In town to revisit his two enduring roles at this weekend's Armageddon Expo, actor Paul McGann talks to Greg Dixon about dealing with his past glories.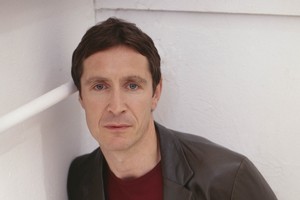 "I feel ... what's the word? ... unusual."
Paul McGann laughs, heartily but briefly. The British actor sounds, oh dear, ever-so-slightly manic. Has he drifted into the arena of the unwell, I wonder, as his distinctive Liverpudlian growl dies in his throat?
Quite possibly. McGann has just arrived at his hotel, having just landed in Melbourne after a near-sleepless 24-hour flight from Britain, to find me on the end of his room's ringing phone.
He sighs as he tells me this. However, he's obviously feeling puckish enough - before he's even kicked off his shoes and taken to his hotel-room bed - to begin our conversation with a joke. As trainspotters will have discerned already, "I feel unusual" is a quote (as is "drifting into the arena of the unwell") from Withnail and I, the oft-quoted, much-loved cult film in which McGann appeared as "I" nearly a quarter of a century ago.
Co-starring Richard E Grant as Withnail, the film remains something special.
Set at the fag-end of the 60s, it finds two "resting" actors - Withnail and I - holed up in the most disgusting flat in London, short of money, alcohol and drugs, and in much need of holiday in the country. What follows includes a flamingly flamboyant uncle attempting "burglary", a dead chicken sitting on a brick in an oven, a drunken Irishman with no time for "perfumed ponces", something called a "Camberwell carrot" and some of the most beloved and quotable dialogue ever filmed.
Withnail was and remains uniquely, eccentrically English, McGann says. More importantly, it's still as funny as hell, though it's also a small-but-perfectly formed lament for a very specific time and place, a cramped, claustrophic slice of life redolent of decay, and of the death of the 60s dream.
"It comes from the mid-1980s," McGann says, "but it sticks out like a Smiths record. Its provenance is from a different era. None of the production values, none of the iconography, none of the style remotely has it down as an 80s picture.
"I've had people say to me 'Jeez, I thought it was actually shot in the 60s' - I don't know how old they think I am!"
McGann, who will be in Auckland tomorrow night to speak at a special one-off screening of Withnail at SkyCity, says it does feel, well, unusual to be talking about a film that he made, if not in the 60s, then a long time ago.
"I'm not sure whether it's a blessing or a curse. It feels good in one sense that, when you work as a performer, you're ever in anything that people talk about years later. I suppose it's a stroke of luck."
One that struck twice, as it happens. Not quite a decade after Withnail, McGann was cast as the eighth Dr Who. While his has been a solid career on film and small screen, before and since, it is undoubtedly these two roles - Who and "I" - for which the now 50-year-old is, and perhaps will always be, best remembered.
McGann will talk - along with Who number 7, Sylvester McCoy - about his one-feature stint as the Doctor at this weekend's Armageddon Expo in Auckland. I, however, wanted to talk about I - who was, in fact Bruce Robinson, Withnail's writer and director.
Robinson, a capricious but talented chap, was himself a "resting" actor in the late 60s and kept diaries which he later exploited for a novel. As the 70s - and his acting career - withered, Robinson took to writing and, after his script for 1984's The Killing Fields won him an Oscar nomination, he found the money to turn his novel about two down-but-not-quite-out actors into a film.
"This is Robinson's own story," McGann says. "I played Robinson, while Withnail was a composite of two other people."
What got him the part? "I looked like Bruce. I walked in the door and he gave me the job. I didn't even have to take my coat off."
The joy of landing his first film role was brief, however. Days later Robinson fired him. "I shat myself. I thought 'how did I manage to blow it?"' Apparently it was McGann's then much thicker Liverpool accent that was the problem, so the role was offered to another. Three days later, an apologetic Robinson offered McGann the job again; the actor Robinson wanted had said no. However, he still made McGann read for the part. "Then it was on again and we started rehearsing; silly bastard."
The rest, however, wasn't quite history. While Withnail now has a firm cult status and routinely appears on critics' lists of best films, it received only limited screenings on its release in 1987 and, just as quickly as it opened, disappeared.
But not quite. In a rather complicated, circuitous way it finally found its audience after the company that made it - Beatle George Harrison's Handmade Films - collapsed and rights for Withnail's VHS distribution were sold in the early 1990s.
The film is now firmly owned by its obsessive, loyal audience which, I suggest to McGann, tends to be young, male and prone to shouting Withnail's pissy, prissy bons mots at each other after too many drinks.
"I think that's probably fair. I think it's generally young fellas. But I'm glad the film's been reappraised now for its sheer craft."
Mad fans shouting dialogue at him in the street doesn't happen as much as it once did. But he still laughs that someone once chalked on the pavement outside his house - apropos of that drunken Irishman - the word "'ponce' with an arrow pointing at my house. I kind of like that."
Grant has said he owes his career to Withnail, but what of McGann? "I think it's true what Richard says. He's eternally thankful because it got him the big break. But I think, sometimes, it drives him a little bit nuts that he's asked to reprise that performance, that role. Whereas in my case, nobody ever mentions it. I'm not asked to do that thing in Withnail and I, but he is, constantly. I feel for him. It must drive you mad."
Of course it might have been very different. But Withnail has endured, simply, McGann believes, because of its quality.
"None of us had ever done a picture. We were just thrilled to be in one. Frankly if it had never seen the light of day or ... nobody spoke about it ever again, it wouldn't have mattered. It was a buzz."
LOWDOWN
Who: Paul McGann, a former Dr Who and star of British cult classic, Withnail and I
What: A guest at Armageddon Pulp Culture Expo, Saturday to Monday, ASB Showgrounds, Auckland
Also: McGann will be attending special screening of Withnail and I at SkyCity Theatre, 7.30 tomorrow night which features an informal discussion about the film hosted by Oliver Driver
-TimeOut