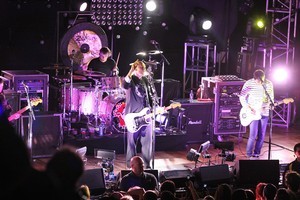 Billy Corgan-the sinister looking bald guy up on stage-is playing nice until he starts picking on 20-year-old drummer Mike Byrne.
"Boo," he groans during the introduction to Cherub Rock, the Smashing Pumpkins' scorching 1993 single. "Lets try that again," he says before cracking into it a second time.
It's only a small outburst-and it's the only one of the night; he gives Byrne big ups during one of his monumental Bonham moments later in the set.
But it proves there is still a touch of the arrogant control freak to Corgan.
As a musician he's always been a mix of intimidating, uncompromising, and venomous, with a devilish cheek and a sweet and heartfelt softness thrown in every now and then.
And with his new band - guitarist Jeff Schroeder, bass player Nicole Fiorentino, and young Byrne, who would have been one year old when the band's first album, Gish, was released-Corgan's still fearsome but he's also happy and fun-loving with it.
Still, tonight this is the Bill Corgan show and he's doing whatever the hell he likes. For instance, opener The Fellowship is a new synth-driven bopper with more than a hint of Donna Summer's disco classic I Feel Love to it.
There's also a bunch of new songs off the latest album, Teargarden By Kaleidyscope-a 44-song epic that he's drip-feeding to the world song-by-song for free-including the jarring and mangled squalls of Astral Planes, the delightfully dreamy Spangled and the down in the mouth refrain of A Song For A Son.
Another recent, and an epic highlight, is the heavy shredding and spiralling chaos of United States, with his catch cry of "revolution" ringing out spookily and a version of Star Spangled Banner buried within it.
And of course, scattered throughout are the classics - an all-in sing-along for Today, the ghoulish, sloping groove of Ava Adore, and an acoustic version of Disarm during the encore.
And if the length of the last song is an indication of a good show, the 22 harrowing minutes of Gossamer show Corgan is back to his menacing best.