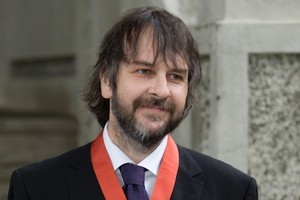 The shooting of the two films based on The Hobbit will begin in February, with Sir Peter Jackson in the director's chair after co-financers gave the film the green light.
The announcement was made today by New Line Cinema and its parent company Warner Bros, but did not state whether the adaptation of the JRR Tolkien novel would be shot in New Zealand.
A spokesperson for New Line Cinema told NZPA there had been no decision yet on where the movies would be filmed.
It had been widely speculated that Sir Peter would direct the film after Mexican film-maker Guillermo del Toro quit in May due to delays on a starting date, in part due to financial problems with one of its backers, MGM.
"Exploring Tolkien's Middle-earth goes way beyond normal film-making experience," Sir Peter said in the statement.
"It's an all-immersive journey into a very special place of imagination, beauty and drama."
The two films are expected to cost about US$500 million (NZ$660m) to make, and will be made in 3-D.
Sir Peter, who co-wrote the screenplays with wife Fran Walsh, Phillipa Boyens and del Toro, will direct the two movies back-to-back.
"There is no human being on the planet as qualified as Peter Jackson to direct these films," Warner Bros president Alan Horn said.
"Peter is incredibly talented and has the creative vision and experience to bring this beloved property to life in a way that no other film-maker could.
"And the team of Fran Walsh and Philippa Boyens have proven through their work on the Lord of the Rings trilogy that no one is more skilled at transforming Tolkien's written words into a vibrant, living language that makes the audience believe they are not merely visiting Middle Earth, but actually living in it."
The Hobbit is being co-produced by film company New Line Cinema and MGM.
New Line will manage production, Warner Bros will handle US distribution of the movie, and MGM will distribute internationally.
Sir Peter, Walsh and Carolynne Cunningham will produce the films, with Boyens co-producer and Ken Kamins executive producer.
With funding secured, only a stalemate between the union and producers over a collective contract for The Hobbit actors seem to stand in the way of filming.
Both sides have agreed to work together to update actors' conditions.
New Zealand Actors Equity organiser Frances Walsh told NZPA the announcement was "great news".
However, she would not comment on whether the decision to begin shooting the movie had any implications for negotiations. The parties involved had agreed not to talk to the media about the discussions, she said.
Representatives from the Screen Production and Development Association, the Actors' Equity union and the Council of Trade Unions met this week for discussions facilitated by Economic Development Minister Gerry Brownlee.
The groups called the discussions useful and productive.
- NZPA