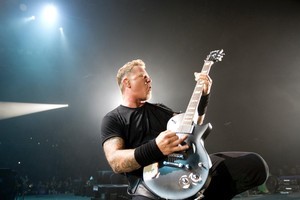 "As you can see Metallica is in a good mood. We're here to have fun," says brawny front man James Hetfield a little way into the San Francisco metal band's two hour set.
No kidding. The sold-out crowd are beaming and baying too since they've just played a pin you against the wall version of One where fire, frills, and guitar riffs are unleashed.
They played two shows in Christchurch last month with a traditional stage set up. But tonight at Vector - the first of two sold out shows - it's the full visual and sonic surround experience with the band in the middle of the arena encircled by their black t-shirt wearing masses.
The show starts shrouded in darkness, but for the galactic lasers flailing around the room that look strong enough to lop your head off; centipede like speakers seep from the ceilings; and eight coffin-shaped lighting rigs hang and writhe up above.
It's a stage that brings everyone into an intimate and seething thunder dome that there is no escaping from.
Special mention has to go to bass player Rob Trujillo who's a lurching animal that has given the band a renewed spark; and drummer Lars Ulrich is like a gargoyle hanging off his drums.
And as stand out tracks like For Whom The Bell Tolls, a lethal Creeping Death, and a surprise treat of ...And Justice For All prove, they are back to playing to their heavy and epic best.
As the punters outside the venue said: "Legendary stuff".
Earlier Metallica also continued the fine tradition of bringing some of the world's best metal acts on the road with them. First up is the slugging intensity of boozy art metallers Baroness, and then Lamb Of God dish out a pounding and brutal boot in the chops before the main event.
Metallica turn 30 years old next year, and while they've had their ups, downs, and outlandish moments (Some Kind of Monster anyone?), they remain the biggest metal band - and one of the biggest bands - on the planet.