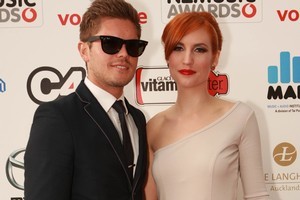 Best handbag
Sam Hayes' date Tommy Bates looked like he'd just finished his homework. Bless. Was the fashion plate toting a toyboy? Not that he looked fazed.
Shimmying down the spouting and escaping the olds for a night out with the glamour ginga would be well worth the grounding when he got home.
Best do
Hollie Smith has morphed into a blonde bombshell. We love the look. Even Gin wanted to take a wee bite.
Best attempt to gate crash an after-party
Go Girls star Bronwyn Turei didn't have a pass to the uber popular Warner Music after-party but joked she could take mine as I was leaving. Only problem, it was inked on my wrist.
So she licked my wrist, whacked hers on top and tried to transfer the stamp. No surprise it didn't work, but we had a good chuckle nonetheless.
Biggest diss
Bic Runga and Kody Nielson from The Mint Chicks forgot their tickets and were left out in the cold for more than 20 minutes until someone finally recognised them and let them in.
Most possessive
A certain high-profile media man, who shall remain nameless, wasn't exactly making friends with Mike Hosking. He kept flirting with Mike's missus - not that Kate Hawkesby seemed cut up about it. The Hosk wouldn't let The Flirt sit next to his woman, but that didn't stop the media meddler from causing trouble.
He sent flirtatious text messages to her throughout the proceedings just to get The Hosk jealous. It worked a treat.
Naughtiest use of a credit card
A well-known TV3 darling and her behind-the-scenes telly pal were Spy-ed exiting the same toilet stall at the Warner Music after-party and blatantly wiping a Visa card with a piece of loo paper. Hmmm, suspicious.
Worst onstage gag
The only thing worse than Liam Finn saying "I've got a Lovely boner," to Rose McIvor (from The Lovely Bones) as they presented an award onstage, was Ronan Keating's flat joke.
He tried to emulate fellow X Factor judge Guy Sebastian's blunder last week, which may have worked, had he not tried to incorporate righteous, goody two-shoes Brooke Fraser into the gag. "And they blew me again" just fell flat.
Most surprising presence
Mark Sainsbury and Simon Dallow took their bromance outside the network and off to the Music Awards. They were last seen holding up the bar at Britomart watering hole 1885 in the wee hours of Friday morning.
Stickiest situation
Former Herald on Sunday editor Shayne Currie got gum on his bum and had to have ice applied to remove the chewing gum that was stuck to his pants.
Best prom King and Queen
The reigning royals of the Kiwi music scene are undoubtedly Campbell Smith and Boh Runga. They are the football jock and the cheerleader of the muso high school.
Most limber sports star
Warrior Kevin Locke was Spy-ed doing the splits on two bar stools at a late-night party. Who knew he's so limber?
Most surprising sports fan
He may look like a big wuss and all skin and bone, but Shihad's Jon Toogood is a big fan of the Vodafone Warriors. He made a beeline for their table as soon as the after-party kicked in.