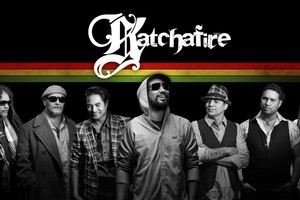 If you thought Katchafire were just a part-time reggae band that hibernated all winter until the Kiwi summer festival season, think again.
These days the seven-piece from Hamilton spend more time travelling the world than they do at home - and it's the sun-soaked islands of Hawaii where they have their biggest fan base.
"We are practically kings in Hawaii," says lead singer Logan Bell. "We can't even go into McDonald's in Waikiki and pay for a Big Mac combo - they just give it to us."
Katchafire's popularity has also spread to mainland United States, where they now play to tens of thousands of people every year.
The band's busy international schedule means less time is spent in the studio, hence the space between the 2007 album, Say What You're Thinking and On The Road Again, out tomorrow. But it has been well worth the wait - this album, their fourth, is their best yet, Bell reckons.
"The boys have grown more confident in the studio, whereas before some used to be a bit intimidated by it.
There are a lot of studio production tricks and techniques used in this album. The studio has been like an eighth musician of the band."
It helped that they recorded the album in Revolver Studios in rural Waiuku. "Basically we made it our home. We could record all night and then pull out a mattress in the control room and crash if we wanted, or just cruise all day and wake up at midnight and start recording," says Bell. "That's something we couldn't do before because we've mostly recorded our albums in town studios, where you can't stay. We really felt at home this time and that feeling really suited us."
As the name of the album suggests, Katchafire will soon be jetsetting again - but not before they reveal their new sounds to the fans that matter the most with a nationwide tour, starting in Auckland on October 15.
On The Road Again is out now.
Tour details at katchafire.co.nz
-Herald On Sunday / View