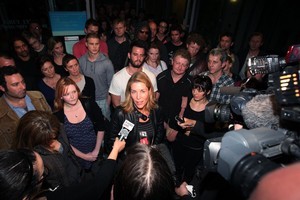 A meeting of Kiwi actors has urged the producers of Sir Peter Jackson's film The Hobbit to meet actors to discuss pay issues.
About 200 people, including actor Karl Urban who played Eomer in the second and third instalments of Sir Peter's The Lord of the Rings trilogy, packed into the Grey Lynn Community Centre last night to discuss the issue last night.
The meeting came after the Australian Media, Entertainment and Arts Alliance (MEAA) called for a boycott of The Hobbit, saying its makers had refused to enter into a union-negotiated agreement.
It advised members not to accept work on the project because actors might be employed on inferior non-union contracts.
In response, the producers said they were considering making the film elsewhere.
New Line, Warner Bros Pictures and MGM, said their general policy was to avoid filming in locations where there was potential for "work force uncertainty".
And Sir Peter, the film's executive producer, said the dispute could lead to The Hobbit being made in eastern Europe and the makers of other big-budget movies turning their backs on New Zealand.
After last night's three-hour meeting, NZ Actors Equity president Jennifer Ward-Lealand read out a statement:
"As a result of tonight's meeting, Actors Equity members have overwhelmingly resolved that its delegation meet the producers of The Hobbit to hold negotiations in good faith, taking in the terms and conditions for performers working on the production."
Ms Ward-Lealand said the union had been trying to meet the producers for more than a month.
- ADDITIONAL REPORTING: NZPA