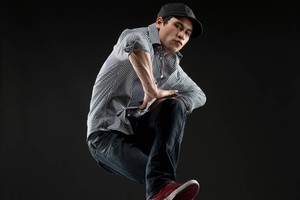 The Tempo dance festival is in masculine mode this year with a muscular lineup of events celebrating the male dancer. Douglas Wright is the festival's celebrated choreographer, with a one-hour programme showing excerpts of his work and featuring friends and colleagues in conversation about his astonishing life in dance - so far.
"I feel posthumous already," says Wright, with characteristic wryness.
The tempestuous journey Wright has made from boy gymnast in Tuakau to an international dance career has been well documented already in his book Ghost Dance and in Leanne Pooley's feature-length documentary Haunting Douglas.
The precocious blossoming of his homosexuality was followed by a dance career that saw him catapult from heroin addiction - via Limbs Dance Company - to membership of the elite Paul Taylor Dance Company in New York in just five years.
A stint in London's DV8 Physical Theatre came next, then he returned to New Zealand to form the Douglas Wright Dance Company in 1989.
Wright has always had a penchant for the dark and depressive side, for the conflict and powerplays in human relationships, fractured communication, wild ecstasy followed by dramatic plunges into despair. He is the master of startling stage images.
"I love images," he says, "that set off question marks in your head, suggest a matrix of meanings. I think in images."
Wright retired from dance in 2007, after the publication of his first book of poetry, Laughing Mirror. But inspiration has since struck again, and he is now focused on a new work, already titled Rapt, for the Auckland Arts Festival next year. There has been a month-long workshop, and the piece is already half made. Being back in the studio was "a joy!"
The cast will be largely the same as his last work Black Milk - but with more dance, less text, more light.
Taiaroa Royal is the year's honoured dancer, and will be feted in a similar hour-long event. Royal will also appear in Y Chromozone with Taane Mete and alongside dancers from Black Grace, the RNZB and guest artist Kim Bergh. TMC and Prestige represent the world of hip hop and street dance, while rising crossover star Justin Haiu's contemporary ethnic piece is titled Journey to Wallis.
Haiu, the inaugural Manukau Pacific dance artist in residence in August and September this year, began his career in kapa haka and street dance, and went on to star in several seasons of The Lion King after six months of formal dance training in Sydney. He shot to fame in New Zealand as a runner up on So You Think You Can Dance, in 2006, and has since performed in Red Leap Theatre's The Arrival and in Michael Parmenter's Tent. Journey to Wallis tracks his path through the different cultures that have shaped his style.
His father is from the French-governed Wallis and Fortuna Islands and his mother is a New Zealand European. Her time growing up in Whangarei and as a boarder at Sacred Heart in Auckland provided a strong Maori influence.
But it was Michael Jackson's visit in 1996 that truly inspired Haiu, and he "got into" robot, b-boying and hip hop, and went on to pioneer the revival of breakdancing in New Zealand with Faith City Rockers and Jireh Dance Crew under the name Jandal J.
BoyzDance2's performance in Tempo 10 - We're Back - with a cast of 50, should have been called Full Circle, says dance teacher Jacqui Cezan, who founded the studio when her own three boys wanted to dance. "I was shocked that boys were being taught dance as if they were girls."
At BoyzDance2 there is far less focus on technique for its younger dancers and a lot more physicality. So her studio teaches tap, hip hop, contemporary dance, capoeira and jazz.
"We make it as cool as possible," she says, "with male teachers, role models, and lots of fun."
Boys are more natural performers than girls, she asserts. "Girls are programmed into it. But it is the boys who are more genuinely interested in performing."
And the benefits of dance to boys go way beyond the physical. Dance training develops fantastic skills for sports but there are even bigger benefits in increasing confidence. And social skills blossom.
"Guys who can dance always have a great time at parties. Girls love boys who can dance."
And then there is the earning capacity. Her eldest son Andrew, one half of the current TMC and a lead player in Prestige, put himself through his university degree - in dance - by performing. He now teaches at Boyzdance2 - "which is why our performance ... should be called Full Circle".
Performances
What: Celebrating a Choreographer: Douglas Wright (koha event)
Where and when: Tapac, October 2, 8pm
What: We're Back: BoyzDance2
Where and when: Tapac, October 8, 7.30pm
What: Honouring a Dancer: Taiaroa Royal (koha event)
Where and when: Tapac, October 9, 9pm
What: Y Chromozone
Where and when: Tapac, October 9, 6pm and at 8pm