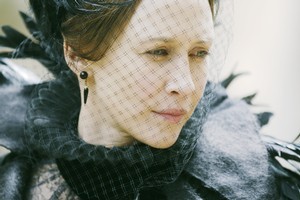 You may know American actress Vera Farmiga as the sexually charged businesswoman in Up In The Air, but the Oscar-nominated star won the award for best actress in a feature film at last night's New Zealand Qantas Film and Television Awards.
She won for her role as a French aristocrat in Niki Caro's The Vintner's Luck.
Keisha Castle-Hughes, who played a farm girl in the critically panned flick, eventually received it on her behalf, as the pregnant winner was at the Toronto Film Festival.
Farmiga beat Kiwi actress Alison Bruce (Life's A Riot) and Elena Stejko (Russian Snark), who has been working in New Zealand for the past 15 years.
The American's win will be another blow to Kiwi filmmakers struggling for recognition and funding from the New Zealand Film Commission, which offered millions to Vintner's - a movie primarily filmed offshore.
Taika Waititi won an unprecedented trifecta, winning Best Director, Best Supporting Actor and Best Screenplay for Boy, his second feature film.
The movie also took home the gong for Best Feature Film. Great Southern Television's The Cult won awards for acting, design, music, editing and cinematography.
Danielle Cormack and Lisa Chappell picked up the gongs for Best Actress and Best Supporting Actress respectively for the TV2 show.
Jaquie Brown, who is due to give birth in February, received the award for Best Comedy Programme alongside her colleagues Matt McPhail and Gerard Johnstone. It was a surprising win. The popular 7 Days was the front-running favourite.
Pulp Sport was also nominated in the category and many wondered if the show's creators and presenters would show up last night. Ben Boyce and Jamie Linehan have seldom been seen this year.
Marcus Lush may have missed out to Te Radar in the Best Information/Lifestyle Programme, but he was pleased to win the Best Presenter category for his role fronting the critically acclaimed South.
Melanie Rakena took home the Best Director trophy for the same series.
The field of news and current affairs proved a close call.
TVNZ's One News won four awards, including Best News and Journalist of the Year for Paul Hobbs; while TV3's Campbell Live took home three gongs, including Best News/Current Affairs Presenter for John Campbell.
That will be a welcome relief for the TV anchor, who has faced a barrage of negative publicity this year about the future of his show. Surely, with this win under his belt, corporate bosses at MediaWorks will have to acknowledge the show's success.
As for the real gossip, I'm afraid you'll have to wait until next week to hear the salacious juice about what went down at the hedonistic after-parties.
At the time of going to print, we heard Simon Dallow would be a no-show. No surprise really, considering his performance last year which saw him slap a senior co-worker, kiss a colleague's rellie and flirt outrageously with a pint-sized power-broker. Still, it was nice to see the telly anchor let his hair down and have some fun. Here's hoping arch rival Campbell did the same this year - save for the cussing.
FILM
Best Film: Boy
Best Director: Taika Waititi (Boy)
Best Screenplay: Taika Waititi (Boy)
Best Actress: Vera Farmiga (The Vintner's Luck)
Best Actor: Tony Barry (Home By Christmas)
Best Supporting Actress: Stephanie Tauevihi (Russian Snark)
Best Supporting Actor: Taika Waititi (Boy)
TELEVISION
Best Actress: Danielle Cormack (The Cult)
Best Actor: George Henare (Kaitangata Twitch)
Best Supporting Actress: Lisa Chappell (The Cult)
Best Supporting Actor: Matt Whelan (Go Girls)
Best Presenter: Marcus Lush (South)
Best Comedy Programme: The Jaquie Brown Diaries
Best Information/Lifestyle Programme: Radar's Patch
Images & Sound Best Drama Programme: Outrageous Fortune
NEWS AND CURRENT AFFAIRS
Best News: One News
Best News/Current Affairs Presenter: John Campbell (Campbell Live)
Best News Reporting: Paul Hobbs (TV One)
Journalist of the Year: Paul Hobbs (TV One)
Best Current Affairs Reporting For Weekly Programme: Janet McIntyre and Joanna Mitchell, Sunday (TV One)
Best Current Affairs Reporting For Daily Programme: Brook Sabin, Campbell Live (TV3)
Best Current Affairs Series: Sunday