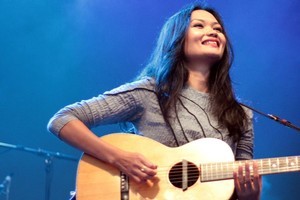 Bic Runga is returning to the live stage as the support act for Leonard Cohen's tour in late October.
"I'm so excited to support Leonard Cohen on his New Zealand shows," she says. "I've been a fan of his songs and poems since I was 16. It's an honour to be given the chance to play before a true master of songwriting."
Runga and band will be showcasing some new material as well as playing older songs in the opening slots at Cohen's five New Zealand shows starting at Auckland's Vector Arena on October 28 (for which there are still tickets available) before heading to Wellington and Christchurch.
From one songbird to another, Anika Moa heads out on another of her epic tours in October, starting in Auckland at the Mangere Arts Centre on October 21, she will play 21 dates around the country at mostly small and intimate venues. For more information and full tour dates go to eventfinder.co.nz
In reunion news, 70s local legends and notorious blues-rockers Ticket are getting back together for shows at Christchurch's Al's Bar on November 12 and the Kings Arms on November 13. The shows will be a chance to celebrate the reissue of the band's long lost album, Awake.
Meanwhile, Toni Childs, the American singer-songwriter with the husky voice who was last here with Jackson Browne in 2009, is heading back to New Zealand for a seven-city tour in October including shows at Founders Theatre, Hamilton, Oct 23 and the Bruce Mason Centre, Auckland, Oct 26. For a full list of tour dates see tonichilds.com.
- TimeOut