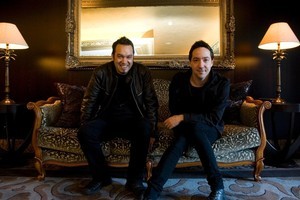 To many it might seem odd that Shihad is this year's recipient of the New Zealand Herald Legacy Award, the tribute which has been given to acts of enduring influence in the past three New Zealand Music Awards,
After all, they are still a vital - though Australian-based - part of the New Zealand rock landscape. One that is about to release Ignite their eighth album. One which is still working on bettering its record as the act with the highest number of Top 40 charting singles in Kiwi pop history.
But those seeing Shihad at the band's recent Powerstation shows, where they played track-by-track performances of old albums Killjoy and The General Electric, would have concluded: They've been so very good for so long.
And being that good has influenced the bands that have followed. Especially in terms of not letting the big bad world dash your rock 'n' roll dreams. Especially on a career which has taken them from Wellington high school classrooms to dodgy German labels to Australian booze barns to Polish metal festivals to multiple Big Day Out triumphs to Los Angeles studios to post 9/11 name changes - and back again.
All while finding a way, their own way, to reconcile their piledriver-strength playing with songs expressing far more than just anger. Though on those early albums, it was a case of the angrier, the better.
In 2010, they'll still be the loudest and youngest act yet to be inducted into the New Zealand Music Hall of Fame - an accolade which comes as part of the legacy prize - alongside Ray Columbus and the Invaders, Straitjacket Fits, Hirini Melbourne and Richard Nunns, Jordan Luck, the Topp Twins and Johnny Devlin.
But like those already on that honours board, Shihad is there not because it's about time they got something for two decades of dogged longevity. It's because they're Shihad, they're ours and they remain an inspiration.
- TimeOut