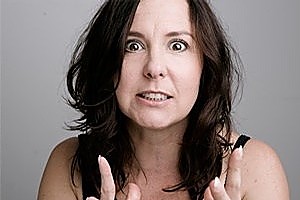 Eve Ensler would be proud. The New York-based writer - and original performer - of the darkly funny, sometimes poignant and always candid The Vagina Monologues wrote her seminal work to celebrate women around the world.
But the purpose of the piece was altered to become an act of political protest and has continued to be presented that way since its original performances in 1998. It has been performed in 120 countries and 4000 shows have been staged for V-Day, a global movement to stop violence against women and girls.
Twelve years on, The Vagina Monologues remains one of the world's biggest theatre phenomenons. It now returns to Auckland eight years after it was staged by Auckland Theatre Company.
It is being revived by a group of actors led by Shortland Street's Sara Wiseman and Beth Allen who, like Ensler, want to use the piece to empower women while highlighting contemporary concerns. Not to mention having a raucous night out.
The play coincides with the launch of the Silver Ribbon Foundation's Awareness Month, which aims to highlight the prevalence of gynaecological cancers in New Zealand.
Allen is an ambassador for the foundation - both her grandmothers died from ovarian cancer.
"A woman dies every day in New Zealand from a gynaecological cancer," says Allen. "This is an opportunity to get people talking about something they seldom discuss."
But Wiseman and Allen also see The Vagina Monologues as a way to keep some of Auckland's finest female actors working. Wiseman, in her debut role as a producer, says the idea was to give actors with young children the opportunity to return to the stage.
"Usually a professional theatre production with a full-time rehearsal schedule ... simply isn't possible for new mums but our revolving casts make it an achievable commitment for those actors.
"We all benefit from keeping these women connected and vital in our industry."
To do so, the duo received permission from Ensler to introduce some new elements. Traditionally three actors have played the parts of various characters Ensler created after interviewing some 200 women about their views of sex, relationships and violence against women.
But in Auckland, a revolving cast of 20 works in four teams of five. Directors Caroline Bell-Booth, Rachel House, Sylvia Rand and Sam Shore work with one team each.
After 12 years, one would think the fuss about the word "vagina" in a title would have abated. But Allen says she has seen a few people sniggering at the billboard outside the Basement.
"Because we work in an industry where we can - and do - talk about what we want ... we can forget it's not like that for everyone. Some of the material remains incredibly personal and confronting."
What: The Vagina Monologues
Where: The Basement
When: August 25-September 11