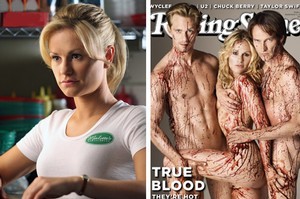 Anna Paquin has posed naked and spattered in fake blood for the cover of the latest Rolling Stone magazine.
The True Blood star is flanked by her equally buff co-stars Alexander Skarsgard (on the left in the photo) and Stephen Moyer to promote the latest season of the hit vampire show.
It is a far cry from her Oscar-winning appearance in The Piano at the age of 9.
The three appear on the cover of the September 2 edition with the headline "They're hot, they're sexy, they're undead".
Paquin, who is engaged to Moyer in real life, told TrueBloodonline: "I'm not sure what the reaction was, but I'm glad I did it. There's such an impulse to turn it into a sensational thing, when what I was really hoping to say is that it's normal and not interesting.
"I feel so lucky now. Life is pretty great."
The three also discussed what they wear during the show's regular nude scenes. Paquin revealed that she was not entirely naked, preferring to maintain her modesty with a "patch".
Moyer said he wore a sock, but Skarsgard said he did not feel the need to cover up.
"I don't want a sock around it - it feels ridiculous. If we're naked in the scene, then I'm naked."