When: Mondays, 8.30pm from August 16
Where: UKTV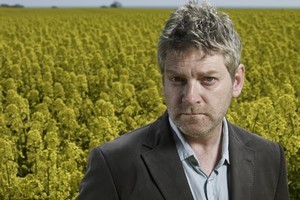 Where once Sweden was good for a steady supply of infernally catchy hit singles, these days the country's greatest contribution to western popular culture seems to be tales of murder and how it affects the smart folk who try to solve them.
The second adaptation in Stieg Larsson's The Millennium Trilogy, The Girl Who Played with Fire, is going great guns at the local box office.
Now back on the small screen is Wallander, the second series of the Bafta-winning BBC adaptations of Henning Mankell's best-selling - that's 25 million and counting - novels.
Kenneth Branagh returns as Inspector Kurt Wallander, the hangdog detective whose existential despair plays up along with his blood-sugar.
This time he's got other worries - he's not sure how he feels about his daughter's new boyfriend, a Swedish-Syrian doctor, and his elderly father's mental health is rapidly deteriorating.
The new series of movie-length episodes covers three more of the Mankell stories - The Faceless Killers, The Man Who Smiled and The Fifth Woman.
In the first, an elderly farmer is brutally murdered and his wife left to die. Wallander arrives in time to hear her whispered final word which he thinks might be foreigners and, with the news leaking out suspicion, soon falls on the local migrant community with local right-wing vigilantes threatening to take action to avenge the killings. It all drives Wallander to the brink of resigning.
But on the bright side, once again, the scenery of southern Sweden where the films are shot looks lovely and act as a fine advertisement for the country's best-known car manufacturer.
But despite the landscape, Inspector Wallander still finds plenty of reasons to despair about the place. There's the state of a supposedly tolerant and liberal Swedish society with its growing undercurrent of racism and violence.
Oh, and the fact that - even with all the time those long northern summer days allow - he can still never find time to have a decent shave ...
- TimeOut