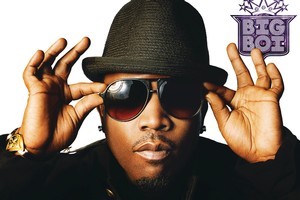 Rating: 4/5
Verdict: Stunning solo debut from Outkast's big guy
One half of the self-proclaimed coolest dudes on the planet is back.
Actually, Outkast called themselves something else, but it's far too naughty to mention here. But they were right, for a decade they were the coolest on the planet, with albums like Stankonia and Speakerboxxx/The Love Below, yet in recent years they've either been absent or average. However, Big Boi - real name Antwan Patton, aka Sir Lucious Left Foot - returns to his inventive and clever best on this long-awaited solo debut.
Possibly the most groundbreaking is You Ain't No DJ, which has an incessant and crazed tapping wine glass mantra throughout. It's the only song featuring and produced by Outkast bandmate Andre 3000, boding well for Outkast's upcoming latest.
Elsewhere, there are other masterful moments, like the in-your-face rap massacre meets gothic choir on General Patton; the beats of Daddy Fat Sax are as heavy as a sledgehammer but smooth as silk; and the dirty, verging on filthy, Tangerine, has a guitar part that wouldn't sound out of place on a Nirvana record.
Big Boi's soulfulness comes through on Be Still (featuring the sweet stealth of Janelle Monae), Hustle Blood (where actor Jamie Foxx turns up), the psychedelic, spaghetti western soul of The Train Pt 2: (Sir Lucious Left Foot Saves The Day) and the electro synth and succulent beats on first single Shutterbugg - pure genius.
-TimeOut