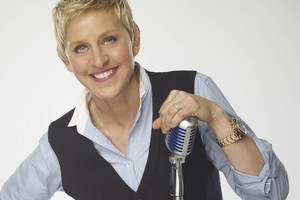 Ellen DeGeneres has quit American Idol. leaving Fox's hit show with two vacancies on its judging panel.
The star tweeted this afternoon "Dim the lights...I've voted myself off American Idol".
In a statement on her website, she said: "A couple months ago, I let the producers know that this didn't feel like the right fit for me.
"While I love discovering, supporting and nurturing young talent, it was hard for me to judge people and sometimes hurt their feelings."
Jennifer Lopez is now reportedly poised to step in, according to reports by People and Deadline Hollywood.
A person familiar with negotiations for Lopez said she was close to signing a deal to join Fox TV's hit singing contest as a judge.
Actor-singer-dancer Lopez, whose films include Selena and The Back-Up Plan, has appeared as a mentor on American Idol.
Fox declined comment, while phone and e-mail messages for Lopez's representatives were not immediately returned.
DeGeneres said she told the network she would delay any action until it had time to "figure out where they wanted to take the panel next".
"It was a joy to work with Ellen," said Mike Darnell, president of alternative entertainment for Fox. "She brought an incredible spirit to Idol."
Fox has yet to announce a replacement for Simon Cowell, who left after the season finale in May to start a new talent show for the network.
Judge Kara DioGuardi, who was brought in two years ago to replace Paula Abdul, is not under contract for next year and Fox has not announced whether she'll return.
- AP, NZ HERALD STAFF