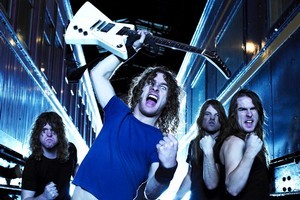 Aussie hard rock band Airbourne return to thrill New Zealand fans with their new album No Guts. No Glory, which was released in March this year.
They start with a show at Auckland's Powerstation on September 30 before moving to Wellington and Christchurch on October 1 and 2.
The high-energy album follows their 2008 debut Runnin' Wild which climbed its way up the New Zealand charts and earned the band tours with Motorhead, Kid Rock and Motley Crue.
Meanwhile, London band Wolf Gang will be playing in Auckland's suitably underground venue the Bacco Room on October 6, then in Wellington on October 7.
The band emerged from London's underground hipster scene in 2009 with hit single Pieces Of You and soon after found themselves playing with Florence and the Machine, Phoenix, Miike Snow, and Metric. They have just finished recording their album with producer Dave Fridmann (MGMT, Flaming Lips) and are stopping in New Zealand on their way to Australia's Parklife festival.
And as reported earlier there it seems there will be no more Holding Back the Years as English soul-pop outfit Simply Red is including New Zealand on their farewell tour. The band fronted by Mick Hucknall, which had a string of hits in the late 1980s, will play four shows including Auckland's Vector Arena on Sunday October 17 before facing a final curtain in London in December. Hucknall is to join a reunion line-up of the Faces in the place of original singer Rod Stewart for an international tour in 2011. Tickets for the NZ Simply Red shows go on sale on Monday August 2.