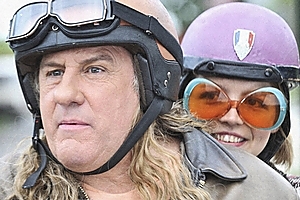 Gerard Depardieu is not happy. He has been directed to sit on a narrow couch on which his considerable girth struggles to fit. But he smiles and bears the situation for the good of promoting his new film.
The French acting behemoth makes so many it's almost like a lottery to work out which may reach Kiwi shores. But in the gentle comedy Mammuth, scheduled for the Auckland International Film Festival, Depardieu, 61, dons long hair and rides a 70s Mammuth motorcycle, Easy Rider-style. Serge, a retiree from a French abattoir, must track down his various former employers to receive a pension. The trip represents not only a journey down memory lane, but a chance for a new beginning.
"I was pleased to have a role where I could simply be," admits Depardieu, who has so often played larger-than-life characters, most famously his Oscar-nominated turn as Cyrano de Bergerac in 1990. "It was fun to make a film with freedom, as we used to make them."
The mega-rich star may now own vineyards and restaurants, yet the one-time bad boy raised in abject poverty was keen to go back to his roots for the film.
"This is the role that reflects me the most," he admits. "I'm almost a vagabond myself, I don't have ambitions and I'm an absolute spectator of life. I know I'm luckier than Serge, because I have a job where I earn a lot of money, but there's a lot of silliness and stupidity surrounding my job as well."
Until recently, the star of Jean de Florette and Peter Weir's Green Card had seemingly been hamming it up for the loot, making overbloated comedies. His estranged only son, actor Guillaume Depardieu, spoke out against his father's mercenary ways. In 2003 he published a book decrying his father as "a coward, a cheater and a chronic liar" and their relationship remained strained until Guillaume's death at 37 in 2008.
Throughout his life, Depardieu's son devoted himself to an edgier, surreal aesthetic in his movies, and frequently worked with Mammuth's directors Benoit Delepine and Gustave Kervern. In fact, the film is dedicated to him. Guillaume, whose youth was marked by drug addiction, male prostitution and high-speed road accidents (one of which eventually led to the amputation of his right leg) served prison sentences for theft and heroin dealing. Depardieu senior has had his own brushes with the law and near-death experiences.
After being convicted of drunk driving in France in 1990 he was involved in a plane crash and two motorcycle accidents. In July 2000 he underwent emergency quintuple heart bypass surgery and says he doesn't drink near as much now (although that still is considerable).
"Before I could drink a lot and pass the day wonderfully, but now, aghhh, I am sad. I taste wine and I spit."
Depardieu met Delepine and Kervern in his usual place of business, his highly regarded Parisian restaurant, La Fontaine Gaillon. He agreed immediately to do their film and came to the set fully prepared.
"He knew his role by heart before we even started and that was extraordinary,'' Delepine notes. "It's amazing what Gerard's done for us and he did it for free."
What perhaps is most amazing in the film is that Depardieu runs around nude in a very silly scene. Nudity doesn't bother him. "No no no!" And he's not ashamed of his big belly, either. "It's very strange because you have half the planet dying without food and the other half are looking for diets."
Depardieu exhibited a riveting screen presence from the moment he started in movies. He never went to drama school and is proud that he learned everything from experience. He still has no career plan. Born the third of six children to an alcoholic, illiterate father, Depardieu dropped out of school in his teens and ran away from home. He broke into film and television in the mid-1960s and developed strong collaborations with certain directors. His second film with Bertrand Blier, Get Out Your Handkerchiefs, won the 1979 foreign film Oscar. In the ensuing decades Depardieu established himself as France's leading actor.. So, is he the symbol of France as people say?
"No I think the symbol of France is General De Gaulle," he splutters. Will he retire? "No, no, no!" he protests. "I don't need to retire because I make movies and wine, I own restaurants and hotel - and it doesn't feel like work. I do lots of things. I feel so alive."
*Mammuth plays during the Auckland International Film Festival at the Civic Theatre on Wednesday, July 21 at 1.30pm, the Lido on July 23 at 6pm, and the Civic on Sunday, July 25, at 4pm. Go to www.nzff.co.nz