As a reluctantly single Southern belle, Renee Zellweger faces a tough date with reality in her latest film, writes Helen Barlow.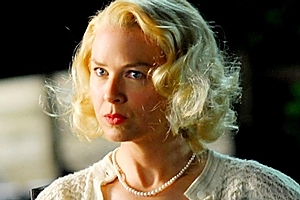 Before it finally got the green light, the screenplay for My One and Only, a film about the teen years of actor George Hamilton, had been doing the studio rounds for a decade.
It finally went into production after Renee Zellweger signed on. And the result gives the actress best-known as Bridget Jones her meatiest role in years as a mum who takes off on a road trip across America with her sons to find a new husband.
Zellweger's plucky Southern belle, Ann Devereaux, may still believe that the world makes an exception for beautiful women, yet as she leaves her philandering band-leader husband (Kevin Bacon) and travels from New York to find a new man, she is in for a rude shock. Times have changed since her courting days and as she takes off with her two sons, the resistant George (Logan Lerman) and the more adventurous Robbie (Mark Rendall), her journey becomes as much about self-realisation as husband-hunting.
"It took something strong, like leaving her husband, for Ann to recognise the strength that she had," explains Zellweger. "She didn't have the confidence to depend on herself and through necessity figured out a way to do that."
Ann's perky confidence, be it ever so endearing to men - at least at first - is all an act.
"She doesn't come from royalty, she's not a Southern belle, she's got her looks and her wit and that's what she's relied on," Zellweger continues. "During the course of her travels, she realises there's more to life than being pretty. As you get older your body deteriorates, you're not always going to be the apple of everyone's eye and she realises there are more things than being vain or finding a husband. Her arc is finding that she can be a good mother; that that is possible."
Even if the rail-thin actress looks like a million bucks in her stunning 50s wardrobe, Zellweger, now 40, has to be commended for playing a woman older than herself. "I love to disappear in a role," she says. "What I love most about film is its ability to move, to teach, to inspire in extreme ways in a finite amount of time."
To get in the mood, Zellweger went on a brief trip to Washington DC with her on-screen sons. "We took pictures at the monuments and it was truly memorable." The shoot itself was far less comfortable. "It was hot," she exclaims. "I'd never had sunburn like that in my life and poor Mark, with his red hair, in the middle of the desert! But we laughed every day and I can't think of an experience that I've enjoyed more - and I've been making movies for 20 years now, good God!"
And, of course she's had her own ups and downs with suitors over the years, having been linked to Jack White after they both appeared in Cold Mountain, and weathering a quickly annulled marriage to Kenny Chesney. She's now fighting off rumours of upcoming marriage to Bradley Cooper (from The Hangover and The A-Team), whom she met on Case 39, one of a string of recent Zellweger flops.
Even if her career has been off the boil of late, there's always Bridget Jones. A third film, after 2004's The Edge of Reason, is in the works. So has she started eating yet? Zellweger throws her hands up in air and shrugs as she is whisked away.
LOWDOWN
Who: Renee Zellweger
What: My One and Only
Where: Bridgeway cinema, Auckland