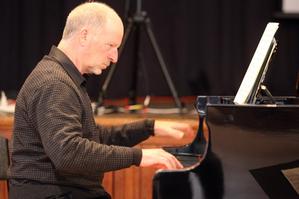 Auckland Town Hall should have been filled to the brim on Thursday night for Josef Spacek and Michael Houstoun's Chamber Music New Zealand recital. As it was, a relatively modest audience caught these superb musicians, just over halfway in an exhaustive 17-centre tour.
After the Czech violinist's dramatic Michael Hill win in 2009 and his sunny, svelte Symphonie Espagnole with the Auckland Philharmonia Orchestra a fortnight ago, revelations were expected and experienced.
The first half of the evening focused on Spacek solo. His architectural grasp of Bach's great Chaconne was unswerving and yet there was musical finesse. Delicate tip-of-the-bow playing evoked Vivaldi, while full sweeps charged the composer's mighty chords to sonorous life.
Ysaye's popular Ballade, an idiosyncratic meeting of Bach and Zigeuner, sustained its energies right through to its final vivo rush, while Gareth Farr's Wakatipu, the test piece for last year's Michael Hill Competition, segued neatly from ethereal stillness to hurtling excitement.
The combination of large Steinway grand and cavernous venue may not have been ideal for Mozart's A major Sonata K 305, but the two men liberated the tarantella in its first movement and allowed the more expansive variations of its second movement to bloom appropriately.
After interval, Prokofiev's F minor Sonata was magnificent. It is no accident that David Oistrakh chose to play the work's two Andantes at their composer's funeral. Both slow movements revealed Spacek and Houstoun playing with a special sympathy and sense of spiritual communion.
Their teamwork through the vociferous dissonances of the second movement and the catch-me-if-you-can Finale was awe-inspiring.
Smetana's resolutely cheerful From My Homeland, dancing along from artless waltz to breathless Presto had the feel of an encore to it. However, the real McCoy would come with Vieuxtemps' campy American Souvenir, in which the two men took positive glee in twisting a defenceless Yankee Doodle Dandy every which way.
Next Saturday finds the pair playing in Hamilton's WEL Trust Academy for Performing Arts, and the opportunity to hear Spacek delivering Czech repertoire (Janacek and Martinu Sonatas) in the sort of venue this music deserves is well worth investigating.
Who: Josef Spacek and Michael Houstoun
Where: Auckland Town Hall
When: Thursday, 15th July