Adrien Brody, of all people, has stepped into Arnie's big boots for Predators, a redo of the alien shoot 'em up, as well as starring in the surreal film festival sci-fi horror Splice. He talks to Michele Manelis.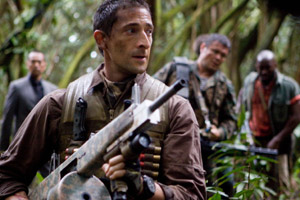 When he was 14, Adrien Brody sat in the cinema watching the ultimate tough guy, Arnold Schwarzenegger, lead an elite commando team into the forests of Guatemala to combat a hostile alien presence.
And, though much has changed in and outside the Predator universe, the biggest surprise for fans of the original is in casting this Academy Award-winning actor as Arnie's unlikely successor.
True, he has done a tour of jungle duty in Peter Jackson's King Kong which, like Predators pits him against all manner of lethal CGI beasts.
However, despite his ethereal appearance and a resume full of movies which tend to lean towards the cerebral such as The Village, The Jacket, and of course, The Pianist, there is an apparent macho existence which exists beneath the surface.
Says Brody, a little defensively, "I'm obviously not the first person on the list you would think to play a role like this, and I think a lot of times, and rightfully so, people make choices that are safe bets.
Because of this perception people have of me, I understand why people, or the studio, might not think I'm right for it."
Director Nimrod Antal contends that though Brody, whose breakout performance in The Pianist earned him an Oscar in 2002, is not the conventional choice, he is quick to dispel any critical doubt. "Any cynicism regarding Brody is absurd," says Antal. "If you go to any contemporary theatre of war, you're going to find a hundred guys who look like Adrien. And one guy will look like Arnold."
A method actor, Brody explains immersing himself into the character. "I did a number of things. There was a physical transformation, which ultimately helped my level of confidence. I put on 10kg, I trained religiously, I changed my eating habits, I restricted my diet and my lifestyle. I isolated myself," he says. "The beginning of the movie was shot in Hilo, Hawaii, a very lush, dense rainforest, over 400ha of private rainforest. The owners allowed me to live in a one-room bungalow on the property. So, I lived on the property, didn't go back to the hotel, and I walked to work. I spent time on my own, building up confidence alone in the dense jungle," he says. "I read survival books, paramilitary manuals, and Special Forces Operations manuals. I also meditated."
Brody says he never had any fears about sleeping in the forest at night. "No. Being in the city is scarier than that. I am not even kidding," says the New York-born actor.
"People are more aggressive and predatory than animals. There are wild boars that can be aggressive in Hawaii and there were a lot of them on that property, but they sound more intimidating than they are. I'd rather walk around the jungle at night without a flashlight than the streets of Queens where I grew up , so it was not frightening for me."
Taking on the role also necessitated Brody to appear comfortable handling the weaponry. "Well, I'm pretty proficient with weapons. I've had small arms and automatic training on my own. And when I did [World War II movie] The Thin Red Line I did a pretty severe boot camp. That kind of thing is exciting for a young guy."
Loyalty and respect to the original film dictated the creative process behind Predators, and the general feeling is that this incarnation harkens back to the suspenseful, rollercoaster ride which made the first a success - but was somewhat lost in the subsequent films.
"There was huge pressure," said Antal. "The fans are passionate. I once had a barber in Budapest with a Predator tattoo. And being a huge fan, too, I put more pressure on myself. We're dealing with a classic. Anything we do will be heavily scrutinised." Producer and co-writer Robert Rodriguez is optimistic about the level of anticipation from fans. "If you say you're making a Predator sequel, people come running."
Special effects genius, Stan Winston (Jurassic Park, Avatar), the original designer of the Predator, jumped on board and created an entirely new clan of predators (as well as a host of other alien creatures, both wild and domesticated) which play a key role in the plot.
The 1987 sci-fi classic spawned a direct sequel, numerous action figures, comic books, video games and two crossover films with the Alien franchise. And in a bizarre twist, two of the film's leading men (Schwarzenegger and ex-wrestler Jesse Ventura) ascended to political rankings as US state governors.
It remains to be seen whether the biggest event in the Predator franchise is in the upcoming form of Predators. The ominous pluralisation indicates the strategy that "more is more", which worked for Alien and Aliens. However, the jury is still out as to whether that distills or amplifies the desired effect.
For Brody, walking in Schwarzenegger's combat boots is a dream come true. "I never imagined having an opportunity to play a Schwarzenegger-esque role in Predators. I would never, never, have imagined that, and I'm sure a lot of people wouldn't either. To go from that place of admiration not only for what he did in that role and the embodiment of sheer animalistic strength and visceral hardcore action of an 80s action movie, but to have the gauntlet passed to me is an honour."
Hopefully Brody will allay the fears of the hardcore Schwarzenegger fans.
"Like I said, I am very protective of it. I think it's interesting, because early on there were fans who were like, 'How can you hire Adrien Brody to play this role?' And I understand that they're protective of something that they love. But I'm confident when they see the movie they'll see that I'm not only equally protective, but that I'm trying to bring a level of truth and integrity to the role and not squander it."
Brody also stars in another forthcoming sci-fi horror, Splice, from Canadian director Vincenzo Natali who came to attention with his cult hit Cube. Brody and Sarah Polley play two egotistical geneticists who bioengineer a creature from combined animal and human DNA and become highly dysfunctional parents to it. "It's the moral implications of this story that really make it stand out," Brody told the Vancouver Sun. "I find most horror really boring, because it's all shaped for the adolescent male mentality ... and that's just not very sophisticated. It doesn't take me anywhere. It doesn't challenge my imagination or my intellect. And I think, for horror to really work well, it has to unseat you at a deeper level."
LOWDOWN
Who: Adrien Brody
What: Predators
When and where: Opens at cinemas from July 8.
What: Splice
When and where: Screening in the Incredibly Strange section of the New Zealand International Film Festival on July 11 and 13.
- additional reporting Emmett Shoemaker