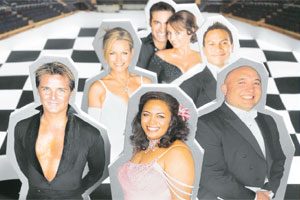 Most contestants pushed their dancing shoes to the back of their wardrobe after appearing on Dancing With The Stars. Now the winners and runners-up have been convinced to dust them off for a second round - this time live, and in front of thousands at Vector Arena.
Dancing With The Stars' inaugural winner Norm Hewitt was not easily convinced that he could have his twinkletoes primed in time for the Vector show in August. He has a hectic schedule - but luckily he and his 2005 dance partner Carol-Ann Hickmore, who now teaches fitness craze Zumba, travel between Auckland and Wellington often enough for them to fit in practices.
On Tuesday afternoon they danced together for the first time in five years.
Even though Hewitt is in the gym five days a week, he knows it will take a while for his dance fitness to bounce back to what it was when he won the series in 2005.
"Even if I do a wee bit of a dance at a school I am reminded of how fit you have to be," he says. He has not taken dance lessons since the show, but he and his wife are always first to hit the dance floor at the odd soiree - though they often squabble a little over who should take the lead, he says.
He's looking forward to facing off against Shane Cortese and again, says he will leave the bare-chested dances to the actor. But no one is as enthusiastic about Hewitt's return to the dance floor as his daughter Elizabeth, now 6, and a jazz, hip-hop and ballet dancer. She has only just made a connection between the shimmering mirror ball trophy on the bookcase and her dad's waltzing skills.
For the series' most recent winner, Breakfast's weatherman Tamati Coffey, the Vector show is also going to require a mountain of preparation.
"My fitness has gone downhill. I'm now the telly-tubby," he says.
Since he won the show thanks to the people's votes last year, Coffey has performed just one dance for a friend's event - otherwise his shoes have not been touched.
His trophy takes pride of place on the bookshelf of his small lounge. "It's hard to miss because it's quite big and shiny," he says. The tailormade outfits he was able to take home from the show are still hanging behind the coats and jackets in his wardrobe.
Every now and then, between weather crosses, Coffey has been known to do one, two, three steps, but that's about it. It warms him up more than singing, and keeps his mind ticking.
Coffey says he didn't hesitate when he was asked to perform in the Vector show - possibly because it's only been a year since his last waltz - but 2006 winner Lorraine Downes says she was a little reluctant about stepping out four years later.
"When it was first mentioned, my initial reaction was [thinking] of being dance-fit and having to put on the costumes and I thought, 'can I do this again?' It was 2006, it was a long time ago. I had a chat to Aaron and he was pretty encouraging, so I decided to go ahead."
Downes has kept in close contact with her dance partner, Aaron Gilmore, since the show and let him keep their disco mirror ball trophy - he was the one who got her through it after all, she says.
Since the show, Downes has taken up the tango and keeps fit with spin classes at Les Mills a few times a week. But ballroom dance fitness is unique: "I know when I do my first practice with Aaron I'm going to have some muscles that go 'ping'," she says.
Perhaps Beatrice Faumuina, who was runner up to Downes in 2006, is slightly better prepared. Not because of her gruelling athletics training (twice a day, six days a week) but because her life took an unexpected turn after she performed in Dancing With The Stars. After the final of the show, she and her dancing partner Brian Jones were inundated with requests to dance around the country. So they did.
Four years later, Faumuina is still dancing. Now she and Jones host free ballroom and Latin introductory lessons in Glen Eden, which she initiated during her time as Health and Wellbeing Ambassador for Waitakere City.
Faumuina had never received formal dance training before she appeared on the hit television series. Since then, she has been through a good six (expensive) pairs of shoes, as well as making regular trips to the repair shop: "I don't have regular-sized feet either, which is more difficult," she says.
Faumuina hopes the past few years of dancing with Jones will show fans that she can still land a twirl as skilfully as a she can fling a discus: "Brian and I were always going to be dear friends whether we were dancing together or not. We built that rapport up through the show. And I think that's what people liked about watching us. What you saw was really us in action. That was a show where for eight weeks Brian had to teach me to dance. It was completely new and I think a lot of people could relate to that."
LOWDOWN
What: Dancing With The Stars
Who: Beatrice Faumuina, Norm Hewitt, Lorraine Downes, Tamati Coffey, Suzanne Paul, Shane Cortese
What: The winners and runners-up of Dancing With The Stars reunite
When and where: August 27, Vector Arena.
Tickets: Through Ticketmaster, on sale date to be confirmed