Rating:
3/5
Verdict: Ravishing to look at but almost devoid of personality.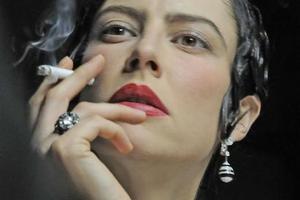 If this film's version of Coco Chanel's life is to be accepted, she was a woman to whom style mattered more than substance.
Aptly, that's a fitting comment on the movie, scripted by Chris Greenhalgh from his 2002 novel Coco and Igor: every frame looks ravishing but, with a significant and honourable exception, none of the characters gives us so much as a glimpse of their inner lives.
The film focuses on a short period in 1920 when the Russian-born composer was struggling to make his way in the West and fashion designer Gabrielle Chanel invited him, with his wife Katerina and their four children, to stay in Bel Respiro - her house on the outskirts of Paris.
There is no explicit evidence that Stravinsky and Chanel had an affair but the film is built on that speculation. The trouble is that the liaison is a sterile and passionless thing. The coupling of two people who were both in the process of reinventing their fields of endeavour is presumably intended to be imbued with a transcendent artistic inevitability but the film-makers and actors were so intent on colour-co-ordinated copulation that no one noticed the characters never came alive.
Little wonder that they cast the drop-dead gorgeous Mouglalis in the role of Coco: she's the "face" of one of Chanel's perfumes so it doesn't matter that she's a very limited actress or that the real Chanel was much too interesting to be pretty. Even the reliable Mikkelsen struggles to breathe, though he depicts the tortured and tempestuous process of composition with some conviction. Only Morozova as Katerina goes beyond an iconography to give us a living, breathing human being: a devoted mother and wife, copying out her husband's manuscripts while ill with TB and accepting the indignity of Coco's charity while begging her not to "meddle with his music".
If the film is style-obsessed, it is certainly stylish. The costumes and set-dressing are to die for and an opening sequence, which lovingly recreates the scandalous premiere of the Ballets Russes' Firebird in the Theatre des Champs-Elysees is both technically brilliant and arresting. But too much of the rest feels formulaic. When Katerina, newly arrived in the monochromatic interior of Bel Respiro, asks Coco whether she doesn't like colour, Coco replies "as long as it's black". Not for the last time, we feel like we're in a museum exhibit.
Cast: Mads Mikkelsen, Anna Mouglalis, Elena Morozova
Director: Jan Kounen
Running time: 120 mins
Rating: M (sex scenes), in French and Russian with English subtitles