Rating:3/5
Verdict: A big, ballsy, fun and instantly forgettable blockbuster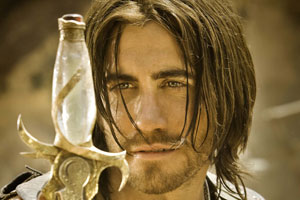 Pirates of the Caribbean producer Jerry Bruckheimer replaces pirates with princes in his latest action adventure Prince of Persia: The Sands of Time based on a videogame of the same name.
Set in the mystical and ancient Persia, this beautifully shot and expensive looking blockbuster is designed to appeal to as many people as possible. Not only is there plenty of action, special effects and fantasy, but also a good dose of drama, romance and humour - much the same as found with the Pirates franchise.
It's full-on fun, but hardly epic, as feisty heroes and heroines flirt while battling evil villains to save the world. While it has the same formula and tone as Pirates, it suffers from a dumbed-down story and cheesy script devoid of surprise or intrigue. Ben Kingsley, Alfred Molina and Jake Gyllenhaal are the most recognisable names, and all do a respectable job, but Prince of Persia lacks a Johnny Depp, someone to give it an edge, some charm and unpredictability.
Gyllenhaal (who made his name in indie films such as Donnie Darko) isn't your typical Hollywood blockbuster actor, and it's questionable whether he has the presence for a lead role like Prince Dastan. While not the perfect choice, with a buffed-up body and likeable disposition, he's got just enough of the physical attributes, humour, humility and heroism to pull this off.
Prince Dastan, a young orphan adopted by King Sharaman (Ronald Pickup) has been raised alongside the King's two biological sons Tus (Richard Coyle) and Garsiv (Toby Kebbell). Dastan hasn't forgotten his early years, keeping company with his friends from the street, who he gets into mischief with.
After the brothers, along with their Uncle Nizam (Ben Kingsley), capture the Holy City of Alamut where they believe weapons of mass destruction are being hidden, Dastan is implicated in a crime which results in him running for his life. Reluctantly, he teams up with the exotic Princess Tamina of Alamut (Bond girl Gemma Arterton), to prove his innocence.
What he uncovers is a much more dangerous plot with evil forces trying to steal an ancient dagger that contains the Sands of Time. When the sands are released, time rewinds allowing the possessor of the dagger to change history, and ultimately rule the world.
Director Mike Newell (Harry Potter and the Goblet of Fire), in fear of giving the audience a moment to ponder just how silly the plot is, keeps the film racing along by throwing breathtaking acrobatic stunts and, mostly, impressive special effects at us.
The film's irreverent humour often falls flat, and the chemistry between Gyllenhaal and Arterton is more flirty fun than sizzling hot, but the focus of Prince of Persia is on lighthearted escapism for the whole family and in true Bruckheimer style there's plenty of that to go around.
Cast: Jake Gyllenhaal, Gemma Arterton
Director: Mike Newell
Running time: 111 mins
Rating: M (Violence)