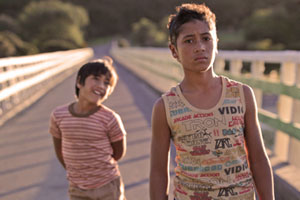 It was always going to take something special to pass Burt on his bike. It turned out to be a Valiant Charger driven by a Crazy Horse.
That and the winning mix of coming-of-age drama, comedy and music in Boy, director-actor Taika Waititi's runaway hit which today will become the biggest local movie of all time.
Boy is expected to pip previous top-earner the World's Fastest Indian's $7.047 million - and it's still going strong.
Last weekend Boy was still at number two at the New Zealand box office behind the new-release Robin Hood and hauled in $402,953 on its eighth week of release.
Yesterday the film passed the $7 million mark having overhauled Once Were Warriors' second place in the local box office list last weekend.
The film was inspired by Waititi's childhood on the East Coast and an extension of his Oscar-nominated short film Two Cars, One Night.
Its local success not only eclipses other local hits, it shows that for local flicks budget-wise, bigger is not necessarily better.
Boy was made with an estimated $5.7 million - about half that of international success story Whale Rider and less than a third of Indian's $18 million.
Waititi is chuffed about the success of his film Boy, saying it is "pretty amazing, pretty cool" to become the biggest NZ film.
But he did not expect it to travel as well as it has: "I've been looking at people starting up Crazy Horse gangs all over the world:
American audiences seem to enjoy Boy but read it on a different level to New Zealanders," he says. "It is a heartfelt film, but I think in New Zealand they get it more than anywhere else."
Waititi is now in New Orleans acting in New Zealand director Martin Campbell's superhero flick Green Lantern.
Boy is due for an Australian release later in the year.
- ADDITIONAL REPORTING: JACQUELINE SMITH