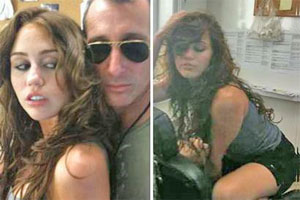 When teen idol Miley Cyrus said she couldn't be tamed, she wasn't kidding.
A video of the Disney Queen dirty dancing and giving a Hollywood movie producer a lap dance has surfaced. And suffice to say, it's raised a few eyebrows.
The grainy video was shot during a wrap party for Cyrus' movie, The Last Song, last year and shows the then 16-year-old parking her derrière on 44-year-old film producer Adam Shankman's lap.
Snappy Stink
The name Shankman ring any bells? It should. He's the very same chap who was embroiled in a previous Cyrus stink. Remember the brouhaha over the snaps of the Hannah Montana star posing seductively with Shankman?
The producer, who is openly gay, leapt to defend Cyrus last year.
"Miley is a sweet angel who works tirelessly and endlessly, and is allowed to have fun in the makeup room," he said of the pics he posted on Twitter.
"Lighten up or no more behind the scenes pics! She is my angel sister."
But has the wee angel's golden halo slipped and turned into a chocking smoke ring? That ball, my friends, is very much in your court.
The video at the centre of the new scandal lands in our laps courtesy of those tenacious batten carriers of truth, justice and the American way over at TMZ.
The website claims that the folk who filmed the grind-a-thon were disgusted and offended by Cyrus' risqué lap dance. Yeah, so disgusted they simply had to share the spectacle with the whole world.
Speaking of the video, a snitch tells RadarOnline.com that "there were little kids at the party and the dancing between Miley and Adam was so dirty that some of the parents actually left the party and took their kids home".
Word is Cyrus' parents weren't at the party to keep an eye on their hip-swinging angel.
Her reps have yet to comment on the latest scandal.
TMZ has now yanked the video, but you can see some screen grabs of the offending article here.
So, what do you think? Inappropriate, or just harmless fun?
Stefani preggers?
Rumours are rife that Gwen Stefani is expecting her third bambino with her rocker hubby Gavin Rossdale.
Granted, the smoke appears to be emanating from scandal sheet Star magazine's general direction, but we'll hold fire on the cynicism for a nanosecond.
Stefani, who is already mum to Kingston, three, and 21-month-old Zuma, has made no secret of the fact she'd like to add to the brood.
A snitch who spotted the star at an event last week said she "was pulling at her shirt to keep it away from her body. It seemed really strange - but then, when she turned to the side, I could see why. She definitely had a baby bump!"
Stefani's also supposedly been snapped wearing a motion sickness bracelet, believed to help relieve morning sickness.
An insider tells OK!, "Gwen is having a really rough time this pregnancy. She had all-day morning sickness for a while with Zuma, but she's sicker this go-round and has been feeling exhausted and dizzy."
We'll keep you posted.
Keys returns
She's been away for what feels like an eternity, but she's back.
Feast your eyes on Alicia Keys' new video for Unthinkable, the latest release off her Element of Freedom album.
It's off!
The on again/off again divorce between Larry King and wifey Shawn Southwick has been put on ice again.
King has checked out of the Beverly Hills hotel he was shacked up in since their divorce announcement last month and moved back into the marital home.
King's rep Howard Rubenstein issued a statement, saying, "They have stopped the divorce proceedings. He has moved back home."
So that business about King allegedly having an affair with his wife's sister, Shannon Engemann, was all cobblers?
"It was just a lot of misunderstanding and jumping to conclusions," Engemann says.
"Shawn and I spoke, and we're getting along great. We love each other very much. She's very clear on everything now."
We'll file this one under F for fickle. Chances are they'll be back to having the hates for each other come next week.
Quote of the day
"She's not God. She didn't make Heidi. She's just a vagina!" - Total tool Spencer Pratt disses his mother-in-law, Darlene Egelhoff, on The Hills.
Blogger's Briefs
Come on into our store, we've got scandal galore...
* Claudia Schiffer pulls a Demi Moore and poses nude for Vogue, avec ciabatta in the oven.
* Pap-slapper Sean Penn sentenced to community service and anger management. Pull your head in Penn.
* Bret Michaels well on the road to recovery and hopes to make it to the final of Celebrity Apprentice. Good on ya, mate.
* One of Lady Gaga's 'Little Monsters' belts out a stunning rendition of Paparazzi. Cool as.
* Russell Crowe and Cate Blanchett rock up at Cannes with Robin Hood. Looking fierce in that pink outfit, Blanchey.
* Sweetness and light Amanda Seyfried has a thing about vaginas. She has one scribed on her foot. How rude!
* Now it really is strictly just pleasure between Britney Spears and her boyfriend Jason Trawick. Professional relationship dunzo.
* Teeny bopper Justin Bieber talks to the Big O, opens up family album. Awwwwww...
* Jennifer Aniston biatch-fighting with Kate Hudson over growly Scot Gerard Butler? Get you, Mr popular!
Blogger Bites Back
Would you?
Make this little Welshman proud and please vote for this blog again in the Net Guide Awards' Best Blog Site category. Voting closes 30 July.
Diolch yn fawr/Thank you!
* Read more celebrity news and gossip from Myrddin Gwynedd here.