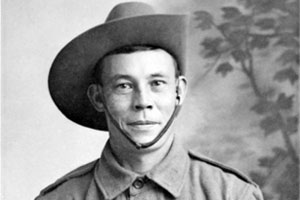 Billy Sing, a Queenslander of Anglo-Chinese ancestry, earned himself the title of Australia's deadliest sniper during the Gallipoli campaign, killing 201 enemy soldiers.
He received the Distinguished Conduct Medal, second only to the Victoria Cross.
But now the World War I hero is at the centre of a row, centring on a mini-series about his life by an Australian director, Geoff Davis. Australians of Chinese descent are furious that Davis cast his son, Josh, in the lead role, rather than a Chinese actor.
Sing's father is played by Tony Bonner, who came to fame as the blonde helicopter pilot in the Skippy television series.
The president of the Chinese Australian Forum, Tony Pang, said: "I'm very sorry to learn that somebody is trying to whitewash a Chinese-Australian face with a white face. It's a disgrace. To see this distortion of historical fact, it's sad."
Davis has defended his choice, saying his problem was finding a 60-year-old Chinese actor to play Sing's father in The Legend of Billy Sing, which is still in production.
But Australians of Chinese descent called it a betrayal of their heritage.
"We'll now have people growing up thinking Billy Sing was white," said Bill O'Chee, a former National Party senator.
Sing, who had an English mother and a father from Shanghai, enlisted as a trooper in the 5th Light Horse Regiment. He became known as "The Assassin", and the Turks sent their champion sniper, "Abdul The Terrible" to hunt him down; however, Sing shot Abdul first.
Pang said: "The question I ask myself is, what if John Howard is being played by a Pakistani? It's ridiculous. It's just not appropriate."
- INDEPENDENT