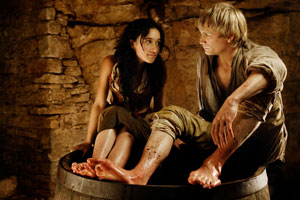 Showing the death of a sportsman is acceptable in a news story but previewing a Keisha Castle-Hughes sex scene is not, the broadcasting watchdog has ruled in separate decisions.
The Broadcasting Standards Authority agreed with a complaint that the sex scene from the film The Vintner's Luck, screened by TV One's Close Up, was unsuitable for the early evening timeslot and left little to the imagination.
The scene featured kissing between Castle-Hughes and a male character, with the man then putting his head under her dress.
In its defence, Television NZ said that while some sexual activity was shown, there was no nudity and no explanation of what was going on.
A second complaint about the use of language by a reporter in the same segment was not upheld. The reporter called The Vintner's Luck "a good old Kiwi film about drinking and rooting".
The authority made no orders in relation to the complaint but said the decision should remind broadcasters to exercise care.
In a separate finding, the authority said slow-motion footage screened by 3 News of the death of Nodar Kumaritashvili, a Georgian luger, was coverage of a legitimate and newsworthy story.
Kumaritashvili was killed at the Winter Olympics in Vancouver when his luge left the track, flew over a barrier and hit a metal pole.
The authority rejected the complaint that the scene breached taste, decency and privacy standards. It said the footage was taken from a respectful distance and no close-ups were shown of Kumaritashvili after the crash.
Before the clips, TV3 also provided a strong, clear warning that viewers might find the images disturbing and offensive, giving them the option not to watch, the authority said.
The authority said the privacy standard did not apply because privacy laws do not apply to the dead.
A promotion featuring a serial killer has cost TVNZ $2000 after incorrectly being classified as suitable for a general audience.
The advertisement for the documentary Real Crime: Interview with a Serial Killer showed footage of a serial killer saying he had snapped a woman's neck.
The promo was shown at 5.25 on a Wednesday afternoon, during a G (general) time band. The authority found that it contained violent themes which would have alarmed child viewers.
THE VERDICTS
Sex scene
The scene left little to the imagination and was unsuitable for the early evening timeslot.
Olympic death
A legitimate and newsworthy story. Footage taken from a respectful distance with no close-ups.
- NZPA