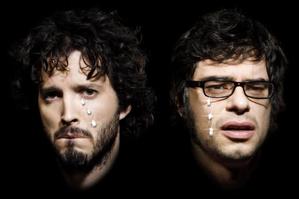 New Zealand comedy duo Flight of the Conchords will appear on The Simpsons this year, it has been reported.
The Wellingtonians, Bret McKenzie and Jemaine Clement, recorded an episode in January which would screen later this year, a source close to the comedians told the Dominion Post.
The pair's hit US TV show ran for two seasons between 2007 and 2009 on the HBO network.
Clement and McKenzie were understood to have rehearsed lines with Nancy Cartwright, the voice of Bart Simpson, over the phone from Wellington before recording in the United States.
The duo's manager Mike Martinovich said he was unable to comment, telling the Dominion Post: "I don't know whether there's anything I'm allowed to tell you about that."
It was not known if the pair would play themselves in the episode.
Xena star Lucy Lawless and Jurassic Park actor Sam Neill are the only other New Zealanders to guest star on the show in its 21-year history.
An upcoming Flight of the Conchords show at London's Wembley Arena sold out in under 20 minutes last month, with the duo adding an extra show at the venue during their May tour of Europe and the US.
- NZPA