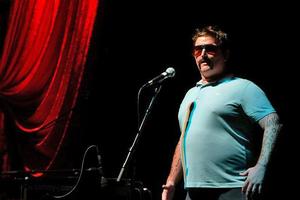 As always, the first joke of the night in this opening barrage of the Auckland International Comedy Festival was the stage.
They had gone with a Cuban theme with a banner "Viva Comedy!" above a street scene of distressed post-Castro chic which may have tempted a lesser comedian to ask: "Are we Havana good time?"
No one inquired. Mostly we did. But with 25 acts, it sure felt long and with a distinct sense of deja vu.
But if we were to stretch the set's metaphor to breaking point, it could be said that our own comedians are living in post-revolutionary times.
Plenty are now plying their trade on stage and on screen out in the wider world; a fair few have the likes of TV3's 7Days to thank for higher profiles at home - the network having grabbed this annual show from long-time broadcaster TVNZ and roped in its former Friday night face Rove McManus as MC.
But while the host and the backdrop may have changed, much of this sure felt like a repeat of past glories with a line-up almost interchangeable from last year's gala. And in many local cases interchangeable material from past routines.
Sure it had Rove, who was his usual infectiously energetic self as host and having fun at the expense of those in the front rows who needed to answer the call of nature or found themselves snoozing off their earlier excitement as the show passed the three hour mark.
But he was the lukewarm water between the fire and ice of the acts, and if anything was over-used - although at least he did begin with the traditional comedy festival greeting, the anecdote about dealing with NZ Customs.
At least that made a nice change from the Icelandic volcano flight-delay jokes to come from many of the rest of the expatriates and imports.
Female comedians made up only a fifth of the line-up but generally left a bigger impression than the boys.
The only local gal, Irene Pink, ah, dined out amusingly on her weight loss which has made her no less jolly, and Aussie star Hannah Gadsby's reflections of her child-bearing hips, her feet and her body's other particular drawbacks was one of the night's most hilarious, most complete routines and one that recommends her own show highly.
The early part of Ireland's Maeve Higgins set got a little lost in translation - there was a fantastically lateral-minded jazz joke in there involving John Coltrane and Take The A Train which zoomed across everyone's heads as we - and the sound - were adjusting to her accent. But there is an awkward magic to her and she also deserves to be seen in a more intimate setting.
Aussie Felicity Ward felt a little scripted in her ruminations about what would be a dating deal-breaker, but one suspects her own show, Textbook Idiot, is more theatrical than the pretend spontaneity of stand-up and is also something to see.
But one of the stars of the night was Josie Long with a whimsical routine built around two neatly absurd short plays and some really useful advice.
Of the blokes, the highlights included the already much-acclaimed Englishman Carey Marx and Canadian Phil Nichol as white-suited singer "Bobby Spade" who is the mad-eyed frantic opposite to the country deadpan of Wilson Dixon, who returned to deadpan some more; and while we might think that Lord of the Rings humour is way beyond its use-by date, the seemingly multiple-personality routine of Brit Terry Aldertons showed that if they need some light relief on The Hobbit, he's your man.
His Orc though wasn't as frightening as Heath Franklin's "Chopper" whose performance showed that live, this character routine is much less of a one-joke pony than those of discerning comedic tastes might think.
Up early fellow Aussie Will Anderson also impressed with his frantic sharp wit including some muppet jokes that nicely prefaced the Avenue Q musical number later in the show.
Of the local blokes, the stand-out stand-ups were Ben Hurley, a guy whose relaxed delivery makes a little go a very long, highly amusing way, and Simon McKinney whose fast-talking funny-voice routine takes some neatly imaginative leaps away from just celebrity impersonations.
Mike King showed he has that ability to both be offensive (a gag that started with the phrase "white women" and ended with "handcuffed in the boot of my car") and oddly endearing within one short set.

What: Comedy Festival Gala.
Where: Aotea Centre.
See it: TV3 8.30pm Wednesday.