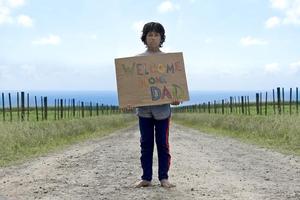 After running second to Clash of the Titans over Easter at the New Zealand box office, local hit Boy has overhauled the Hollywood fantasy blockbuster to be the country's number-one film for the second week running.
The Taika Waititi-directed comedy increased its take from its first week, grossing $1,254,940 after its haul of $866,121 in the opening seven days. It returned to the number-one spot after Titans took $959,145 to its $909,017 over Easter, with the big-budget epic playing on 18 more screens nationwide.
Boy's total $2,134,831 take means it is now the seventh biggest Kiwi film at the New Zealand box office, having now pipped 2008 hit Second Hand Wedding ($1,642,508). It's on track to overtake number six movie Footrot Flats ($2.42 million).
Its momentum suggests it won't be long before it becomes a top-five movie and - if it passes Sione's Wedding - our biggest box office comedy of all time.
THE TOP 10 NZ FILMS
1. $7,047,000 - The World's Fastest Indian.
2. $6,795,000 - Once Were Warriors.
3. $6,400,000 - Whale Rider.
4. $4,075,000 - Sione's Wedding.
5. $3,200,991 - What Becomes Of The Broken Hearted.
6. $2,420,000 - Footrot Flats.
7. $2,134,831 - Boy.
8. $1,642,508 - Second-Hand Wedding.
9. $1,600,000 - Goodbye Pork Pie.
10. $1,506,195 - In My Father's Den.