Rating: * * *
Verdict: Cute and occasionally gross, a good stab at trying to make the rom-com more interesting than usual.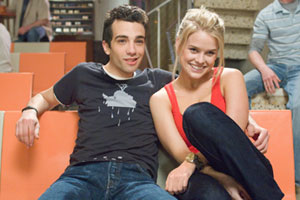 With its crude, tasteless humour set against an underlying sweet and heartfelt story, She's Out of My League is straight out of the Judd Apatow school of comedy, mixed with the buddy flick element of The Hangover.
It's a hard formula to get right though, and if there is one thing this romantic comedy struggles with, it is finding the right balance between all its elements. It's kind of funny, but not a knock-out, and it struggles to balance the gross humour with the romance.
Jay Baruchel (Tropic Thunder, Knocked Up) who is currently on the big screen as the voice of Hiccup in How to Train Your Dragon takes on his first big screen leading role as our unlikely hero, Kirk. An average, nerdy kind of guy, Kirk is nice enough but seriously low in self-confidence, and when you meet his compassionless family, who along with his ghastly ex-girlfriend treat him like a loser, it's not hard to see why.
When Kirk meets the woman of his dreams, a successful and beautiful events manager named Molly (Starter for 10's Alice Eve), everyone is stunned when she asks him out - including Kirk, Kirk's family, and the friends he works with at the local airport. She finds him funny, he finds her perfect, but no one, not even Kirk, believes it can last.
There's plenty of funny banter between Kirk and his mates which will appeal to guys dreading being dragged to a romantic comedy, and yet it still contains sweet, thoughtful moments that will appeal to the romantics.
Baruchel and Eve do a good job in the lead roles, but their characters are such different kinds of people that you're never brought round to believe Molly isn't totally out of his league.
Cast: Jay Baruchel, Alice Eve
Director: Jim Field Smith
Running time: 105 mins
Rating: (R16) Offensive language and sexual themes