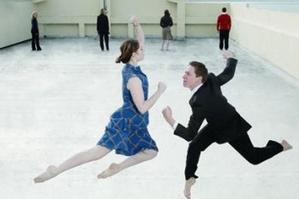 Claire O'Neill's work sits nicely alongside fellow dance theatre work Sutra in artistic director Lissa Twomey's opening weekend festival program. Both explore the individual's struggle - and the respective Belgium based choreographers' own struggle - through movement to find a space within which they can be comfortable. O'Neill calls this place MTYLAND, MTY standing for 'moving towards yourself'.
Six casually dressed individuals try to find stability in a wide open landscape - to try and steady themselves as they teeter from the pressures of their social environment, conveyed by the punchy movement of the group around them. Before a bare white canvas the dancers stride nonchalantly up and strip back theatrical walls one-by-one, between themselves and the audience and between each other.
In a strong exploration of space through levels of the body, an empty stage can be transformed into a battlefield within which each as walking wounded in life tries to find a bolthole. Equally it is a city street where each can find in their peculiar awkwardness an individual strength that helps make them fly. I felt the strong tension in the exploration of space here of having a New Zealand choreographer now resident in a crowded European city coming together with dancers from New Zealand's more open ground who are ready to take wing.
There's a raw, honest, confident edge to this work (a rock and roll attitude) which reminds me of other Belgium contemporary dance theatre works I've seen. As it came to a close it felt like it had had in its sometimes effortless transcendence of the casual into something beautiful all the chaos, joy, fights and rich fragmentary conversations to be experienced at great late night house party.
Both choreography and the dancing of the Footnote Company are excellent. O'Neill's great strength is to take the casual pedestrian movement and social gesture and extend it out effortlessly into something witty and graceful that says more than words can about our efforts to escape our own difficulties. I liked this show a great deal. Significant contemporary New Zealand dance works like this are, sadly, rare, and with its seamless dancing and production it is strongly recommended to dance lovers.
That said, there is also much layering of ideas visually around the movement I describe that irritated. Awkward in its commencement and ending, dramaturgically there are loose ends throughout that try too hard to be smart, with tiresome short dramatic vignettes which have none of the tension of the work when it is in motion. For me these rehearsal room exercises in character development only detract from what the dancers can express bodily. All fail to hold as actors what they amply have as dancers in dramatic presence. The fragmentary texts drawn from dancer improvisations have none of the musicality or expressive capability of the movement.
The work's shape is lost in these segments, where it could be used more pointedly as dramatic punctuation between the beautiful movement sequences. Likewise the tearing off physically of numbers onstage that our programme notes tell us refer to the military strategies of Ancient China felt too much like putting your homework on display. O'Neill needs to trust the communicative power of her own choreography.
*MTYland runs from February 27 - March 1 at Te Papa/Soundings Theatre, as part of the NZ International Arts Festival in Wellington.