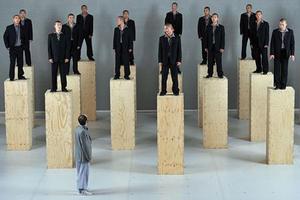 There is much in dance theatre work Sutra in praise of the humble wooden box.

While the coming together of gifted young Belgian dancer/choreographer Sidi Larbi Cherkaoui with 14 Buddhist martial art tumbling monks from the ancient Chinese Shaolin Temple is distinctive festival fare itself, it is the twenty-one sentry, or coffin sized boxes that come with them on stage which are the principal structural and compositional organising element of this exquisitely shaped production.
Artist Antony Gormley as designer manages to find every sculptural and metaphorical synchronised arrangement for these beautifully made objects, their simplicity and strength emblematic of Buddhist teaching.
They can be vessel or roll like the ocean from which the individual reaches out, provide gateways, shelves and walls, unfurl like the petals around a stamen upon which a child Buddha prays, or even tumble tumultuously (with dancers inside) like dominoes, echoing the many terrific flips the group execute. The boxes are the counterpoint horizontal and vertical structure to the bending, twisting almost stop-motion animation work of the group.
The dancers move in and out, atop and around them, creating many varied pictures.
The boxes also introduce a central theme of the work: the strength of working together as many, versus the nimbleness of the one, and the struggle in between for the artist to be able to achieve both. At the work's core is Cherkaoui's own personal journey: of not fitting into anyone's boxes, and wanting to communicate physically beyond anyone else's structures or language.
Cherkaoui is almost Chaplinesque in his quiet showboat dexterity and silent movie comedic storytelling turns. Like a diminutive puppet master, he commences the show controlling the action of the monks through eloquent small gestures of his hands and positioning of a replica small block set of boxes.
Yet as he tries to fit into this new world he struggles to maintain order, continually becomes imprisoned by boxes, before finding a form of temporary release as part of the synchronized sea of monks shadow boxing, twirling and kicking.
The choreography at its best is Cherkaoui's gorgeous synthesis of movement cultures. The stridency, strength and acrobatic nature of the martial arts is given a delicacy and fluidity in translation without losing its core basis in nature. And while there is much astonishing flying, jumping and stick spinning, if anything it is the occasional purer martial arts sequence (with the boxes placed to one side) where Sutra's dramatic tension dips.
There is nothing earnest, austere or polished about this production. There is a truth and ease to such a technically challenging work which is quite remarkable. There is a natural ease and camaraderie in performance, as natural and unvarnished as the wood of the boxes.
Together with the live accompaniment of piano, cello, violin and percussion colouring the background in with Polish composer Szymon Brzoska's rhapsodic score, Sutra is everything one could hope from an international festival production.
*Sutra runs from February 26 - March 6 at St James theatre, as part of the NZ International Arts Festival in Wellington.